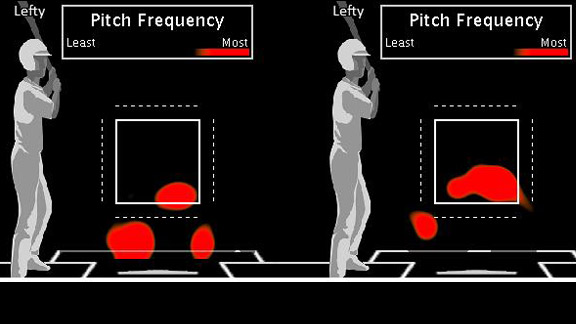 Left: Where Carlos Zambrano threw his splitter/slider (2010)
Right: Where Carlos Zambrano threw his splitter/slider (2011)
Click here to create your own Zambrano heat mapsCarlos Zambrano: Traded to Miami Marlins
Zambrano's batting average on balls in play was nearly identical in 2010 and 2011 (.309 vs .307). So what was the issue that led to his ERA jumping by nearly 1.5 runs?
Zambrano's home run rate soared in 2011. He went from allowing a home run for every 20 fly balls allowed in 2010 to yielding a home run for every nine fly balls allowed in 2011.
His success has historically come when he kept the ball down. Zambrano's percentage of pitches in the lower-third of the strike zone and below dropped from 43 percent in 2010 to 38 percent in 2011.
Zambrano's pitches in the middle and upper part of the strike zone got hit harder. His opponents OPS on such pitches jumped from .673 (in 2010) to .813 (in 2011).
Carlos Zambrano's Slider/Splitter
vs Left-Handed Hitters
Those numbers coincide with a decline in the effectiveness of Zambrano's slider and splitter. Batters missed on 38 percent of their swings against those pitches in 2010, but that number dropped to 26 percent in 2011.
The best illustration of the difference for Zambrano is in where he threw his slider and splitter most often to lefties, as noted in the heat maps above and in the chart on the right. Zambrano's fine tuning the location of his pitches will be something to watch for in 2012.
-- Mark Simon
Chris Volstad: Traded to Chicago Cubs
Volstad is clearly not an elite pitcher. The only other pitcher to throw at least 150 innings and post an ERA of 4.50 or higher in each of the last three years is Fausto Carmona.
What is xFIP?
Definition
But Volstad was likely not as bad last season as his 4.89 ERA might indicate. Though his ERA ranked 98th out of 107 pitchers with at least 150 innings last year, his 3.64 xFIP ranked a more palatable 34th.
One reason for the large differential between the two numbers was a homer-to-flyball ratio of 15 percent that was seventh-highest among MLB starters and nearly double his rate of 8.5 percent from last year.
Most of the damage came against lefties, who hit 19 of the 23 homers he allowed in 2011. Nearly one of every four flyballs he allowed to lefties went over the fence, a rate that was the highest among major-league starters. Last year, only one of every 10 flyballs he gave up to lefties became homers.
The primary culprit was a flatter changeup that averaged almost an inch less break both horizontally and vertically in 2011 compared to 2010, and which led to nearly a 150-point increase in slugging percentage vs his changeup by lefties.
-- Katie Sharp
Coco Crisp: Signed 2-year deal with Oakland Athletics
Crisp's bat last year was below average (91 OPS+), but he was still a valuable part of the Athletics lineup because of his smart baserunning and penchant for making game-saving plays in the outfield.
Crisp tied for the American League lead with 49 steals and ranked sixth in the majors in Baseball Info Solution's Net Gain baserunning stat. Crisp gained 43 bases more than the average player, combining his stolen base successes with his extra-base advancement on things such as hits, wild pitches, and sacrifice flies.
The Athletics capitalized on his speed by showing a willingness to let him run late in close games. Crisp was 10-for-12 in steal attempts that came in the eighth inning or later, with the Athletics either tied or trailing by a run. No other player had more than six steals or seven attempts.
Twice those steals led to the tying run being scored in eventual wins: April 7 against the Blue Jays and May 16 against the Angels.
Crisp has rated as an above-average defensive outfielder in terms of turning batted balls into outs over the last two seasons, but it's his ability to make extraordinary plays at the wall that has set him apart.
Since the start of 2010, only two players have more home run robberies than the three that Crisp has: Peter Bourjos and Franklin Gutierrez both have four.
-- Katie Sharp and Mark Simon