As Tim Kurkjian writes in his column today, Chipper Jones is a unique player. Not only has he starred for the team that drafted him No. 1 overall, but he has stayed with that team for his entire career. And isn't that what you're looking for with the first pick, a player to build your franchise around? So this got us wondering, is Jones the "truest" franchise player? In other words, of all the No. 1 overall picks of all time, has he delivered the most value to the team that drafted him? Let's find out.
To figure this out, we are going to add up the total number of wins above replacement (WAR) that each No. 1 pick produced for the team that drafted him. Adrian Gonzalez, for example, has been a very valuable player, but he has produced almost all of his value for the Padres, not the Marlins, the team that drafted him. With that in mind, here are the five players who have produced the most WAR for the club that drafted them.
5. Harold Baines, 30.3 WAR, Chicago White Sox, No. 1 pick in 1977
Baines was a consistently above-average hitter, as his wOBA never dipped below .333 during either of his first two stints with the White Sox. For a time, he was a decent defensive right fielder, but never great, and he spent the last 10 years of his career primarily as a DH. As such, he only topped 5.0 WAR in a season once, in 1984, when he hit 29 HRs with a .304/.361/.541 line. He was a lock for between 2.0 and 4.0 WAR for 10 years. As a consistently above-average player, Baines was quite valuable to the White Sox, but his age and lack of defensive value hurt him later in his career, when he split time between Chicago as well as Texas, Oakland and Baltimore.
3. (tie) Darryl Strawberry, 36.7 WAR, New York Mets, No. 1 pick in 1983
Strawberry had a fantastic run with the Mets from 1983 to 1990. He won the Rookie of the Year in 1983 with a 26 home run, .371 wOBA, 3.0 WAR season and never looked back. All eight of his seasons with the Mets were worth at least 3.0 WAR, as he combined great power -- isolated power above .240 every year from '85 to '90 -- with great discipline -- he walked more than 10 percent of the time in every year with New York. He even mixed in some great defense, producing a plus-35 TotalZone between 1989 and 1990. Various problems derailed Strawberry's career after he left the Mets to sign with the Los Angeles Dodgers in free agency. Strawberry would only put up 6.5 WAR over the rest of his career.
No. 3 (tie) Alex Rodriguez, 36.7 WAR, Seattle Mariners, No. 1 pick in 1993
This era of Rodriguez's career saw him as among the better defensive shortstops in the majors (plus-22 TotalZone from 1996 to 2000) and
the fantastic hitter we still know today. He would win four Silver Sluggers with Seattle, putting up wOBAs of .444, .379, .399, .397, and
.433. These are fantastic numbers for any position but are eye-popping for a solid defensive shortstop. As such, it only took Rodriguez five full seasons to equal the performance of Strawberry over nine.
No. 2 Ken Griffey Jr., 72.4 WAR, Seattle Mariners, No. 1 pick in 1987
Back in the day, Griffey was in a class all his own. He was among the best defensive center fielders in the game, including a staggering plus-32 TotalZone in 1996. He had more seasons with a wOBA above .400 then below .400. Griffey was simply a dominant force in baseball for 11
years after his call-up in 1989, excelling at every facet of the game. His performance through age 30 compared extremely favorably with those
of Hank Aaron, Barry Bonds and Willie Mays, three of the best outfielders to ever play the game. Unfortunately, injuries derailed the rest of his career and his return to Seattle was simply not productive at all. Still, a team can't ask for more out of a first overall pick than what Ken Griffey Jr. gave Seattle from 1989 through 1999.
1. Chipper Jones, 83.6 WAR, Atlanta Braves, No. 1 pick in 1990
Jones has been the best of both worlds for the Braves, spending his entire career in Atlanta and producing over that span. Jones has never put up any of the eye-popping seasons like Griffey's 10.2 WAR 1996, but he's been consistently excellent. Since 1995, Jones hasn't put up a season with fewer than 2.9 WAR, and he's eclipsed 7.0 WAR four times (including his 1999 MVP season) and 6 WAR eight times. Jones is the prototypical combination of power and discipline, putting up isolated power scores above .200 and walk rates above 11 percent every year of his illustrious career. As it turns out, the numbers also tell us that Jones is the "truest" franchise player.
For a broader view, here's a look at every No. 1 overall pick who has made an All-Star team, and how they fared for the team that drafted them relative to everyone else. This only includes position players.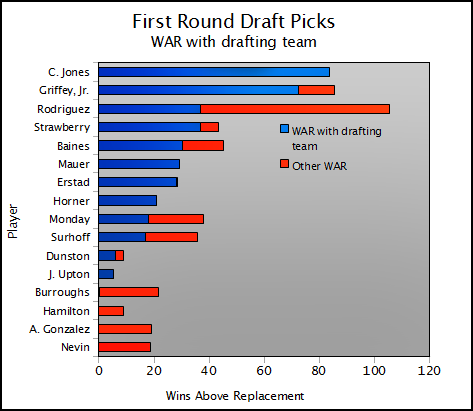 Jack Moore is a writer for FanGraphs.