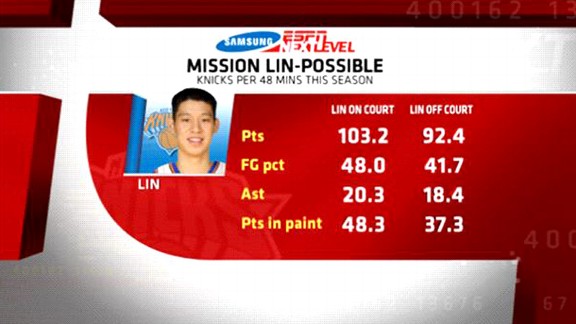 ESPN Stats & Information
The New York Knicks are averaging nearly 11 more points per 48 minutes with Jeremy Lin on the court.By now it's no secret that a certain point guard has taken Lin-Y-C by storm during the New York Knicks season-high five-game win streak.
While the wins have been nice, the elephant in the room looms large with the imminent return of Amare Stoudemire and Carmelo Anthony. How do they fit in with Jeremy Lin?
Knicks Play Type Percentage
Prior to Lin's breakout game against the New Jersey Nets on Feb. 4, the Knicks ran a greater percentage of isolation plays than any team in the NBA. However, they averaged just 0.7 points per play while shooting 33 percent on such plays, each of which ranked among the five worst marks in the league.
Over the last five games, they have completely overhauled their style of play. What was once the league's most iso-heavy offense is now running more pick-and-rolls than any team in the league with Lin ranking among the league's best.
New York Knicks Offense
Jeremy Lin as P&R Ball Handler
Lin utilizes the pick-and-roll himself on 48 percent of his possessions (only Steve Nash runs a higher percentage). When single covered, he averages 1.14 points per possession (sixth in the NBA).
Lin is especially efficient when going to the roll-man, ranking among the league's best P&R set-up men (see chart to right). That's where Stoudemire comes in.
In 2009-10 (his last season with the Phoenix Suns), Stoudemire was involved in more pick-and-rolls and scored more points as the roll man than every player in the NBA except David Lee. Nearly 18 percent of his offensive possessions came with him in that role.
From an efficiency stand point, he ranked in the 80th percentile in points per play (1.18), scoring on 59 percent of those plays.
Flash forward to now. In his worst season statistically since he was a rookie, Stoudemire has been involved as the P&R roll man on just 6 percent of his offensive plays.
Instead, he is relying on heavy doses of isolation (26 percent) and spot-up situations (16 percent) in which he has shot just 35 and 43 percent from the field, respectively.
In limited opportunities, he is shooting 52 percent on pick-and-roll attempts. Stoudemire could benefit from a return to the same offensive philosophy that made him an All-NBA player in Phoenix.
What about Anthony? Conventional wisdom suggests that he can't coexist with another high-usage player. Lin ranks fourth in the NBA in usage rate.
However, Anthony played alongside Allen Iverson for parts of three seasons with the Denver Nuggets. In 2007-08, their only full season together, both ranked in the top 20 in the NBA in usage rate. Anthony averaged nearly 26 points per game while shooting a career-best 49 percent from the field.
So how does he do it this time around? For starters, he can get involved in the pick-and-roll game with Lin. Anthony has only been the roll man in a pick-and-roll play once this entire season.
Don't confuse lack of utilization with lack of ability. In 2007-08 Anthony was an incredibly efficient roll man, averaging 1.21 points per possession. He ranked 17th in the NBA among players with at least 30 plays.
In the new system, Anthony will need to be an effective spot-up shooter. Over the last five games, 22 percent of New York's offense has come from spot-up situations. Anthony has posted a respectable 48 percent effective field goal percentage when spotting up this season.
Past history suggests that Stoudemire and Anthony can blend in to the new-look Knicks.