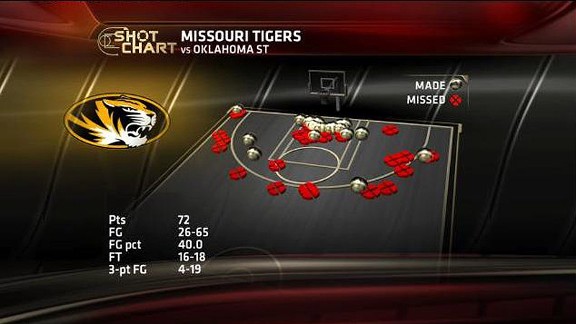 ESPN Stats & Information
Missouri struggled from behind the arc in its January loss at Oklahoma State, as the Cowboys aggressive defense forced the Tigers into contested shots.


Only two teams have been able to outscore the Missouri Tigers this season and one of them – the Oklahoma State Cowboys – comes to Mizzou Arena tonight looking to complete the regular-season sweep of the Tigers (9 ET, ESPN2).
Missouri is the most efficient offensive team in the nation according to StatSheet.com, averaging 119 points per 100 possessions. But the Cowboys were able to shut down the Tigers high-powered attack last month, holding Missouri to its second-worst efficiency mark of the season.
The most glaring issue for Missouri's offense against Oklahoma State was its cold shooting from beyond the arc. The Tigers rank second in the Big 12 in 3-point field goal percentage, but against Oklahoma State recorded season-lows in both 3-point field goals made (four) and 3-point accuracy (21 percent).
All 19 of Missouri's 3-point attempts were in its half-court offense, which is normally among the best in the nation. More than 80 percent of the Tigers' offense comes from half-court sets in which they score at the second-best rate in Division I.
Missouri Half-Court Offense This Season
Oklahoma State, however, held Missouri to a season-low 0.79 points per play on 35 percent field-goal shooting in its half-court offense.
Missouri really struggled to find its touch on catch-and-shoot shots in the half court against the Cowboys. A quarter of Missouri's 51 half-court attempts were of the catch-and-shoot variety. However, the Tigers made just two of 12 catch-and-shoot 3-pointers, compared to 40 percent in all other games.
The Cowboys were able to disrupt Missouri's catch-and-shoot jumpers with an aggressive man-to-man defense that resulted in all but one of those 3-pointers being contested. In all other games, Missouri was guarded closely on just half of its catch-and-shoot shots and made 37 percent of those attempts.
Marcus Denmon Catch-and-Shoot Plays
Last 8 Games
Marcus Denmon was a major contributor to Missouri's struggles, missing on four of his five catch-and-shoot 3-point jumpers, each of which was guarded. This game was part of a two-week slump in which Denmon made fewer than 30 percent of his field goals and just 5-of-31 3-pointers over five games.
Denmon has bounced back from that stretch, making more than half of his shots beyond the arc while averaging 23 points per game in his last three contests. He has also connected on 47 percent of his catch-and-shoot jumpers, including 5-of-8 3-point shots when guarded.
The Tigers will benefit tonight from playing on their homecourt, where they are 14-0 this season and average 83 points per game. Missouri also appears to have regained its long-distance shooting touch since that Oklahoma State loss, making 40 percent of its 3-pointers, including a combined 24-for-50 effort in its last two home games against Baylor and Kansas.
But if Oklahoma State is able to extend its perimeter defense and get in the face of the Tigers' jump shooters tonight like they did just a few weeks ago in Stillwater, Missouri might be challenged to hold off the Cowboys' upset bid.