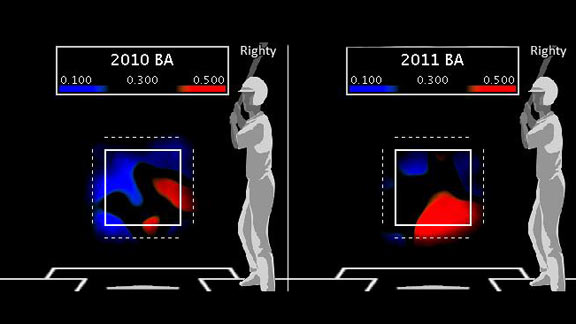 ESPN Stats & Information
In 2011, Yadier Molina improved his batting average on offspeed pitches in the strike zone from .233 to .375 while reducing his miss percentage from 15 to 9.
Click here to create your own Molina heat maps.Yadier Molina agreed to a five-year, $75 million contract extension with the St. Louis Cardinals. The deal will make him one of the highest-paid catchers of all time and includes a mutual option in 2018.
While the Cardinals lost Albert Pujols to the Angels, it has been an active winter in St. Louis. In December, the Cardinals reached a two-year deal with Carlos Beltran. They also re-signed Rafael Furcal and exercised 2012 and 2013 contract options for Adam Wainwright during the offseason.
Let's take a look at the man behind the mask in St. Louis.
Yadier Molina Average Season
At the plate
Offensively, 2011 represented a breakout season for Molina. He set career highs in a number of offensive categories. With his contract extension, the Cardinals are banking on it being a legitimate improvement.
One area where Molina improved significantly was his ability to hit offspeed pitches – changeups, sliders and curveballs – thrown in the strike zone. While he failed to drive those pitches in 2010, few players were more successful in 2011.
His .375 average on offspeed pitches in the strike zone ranked fifth in the majors behind Miguel Cabrera, Carlos Gonzalez, Michael Morse and Aramis Ramirez. His miss percentage dropped from 15 percent to 9 percent, contributing to a 142-point jump in his batting average.
Behind the plate
While 2011 was a breakout year offensively, Molina has long been known as one of the best defensive catchers in baseball. He was one of four catchers to block more than 500 pitches last season, leading the majors with 657.
Over the past three seasons, Molina has caught 3,464⅔ innings, 100 more than any other catcher in the majors. During that span, he has allowed 113 stolen bases. Twenty-nine catchers have allowed more steals despite catching fewer innings. Since 2009, Molina has thrown out nearly 40 percent of runners intending to steal, tops among backstops with at least 2,000 innings caught.
Largest Contracts by Total Value
Cardinals Franchise History
New deal
Molina's new contract will make him the second-highest paid catcher in MLB history by average annual value and third highest by total contract. Joe Mauer is at the top of both lists with his eight-year, $184 million contract. Mike Piazza (seven years, $91 million) is the only other catcher to receive a richer total contract than Molina.
While Molina's contract pales in comparison to Albert Pujols' new deal in Anaheim, it is the fourth-largest contract by total value in Cardinals history. The only $100 million men in St. Louis history are Pujols and Matt Holliday.