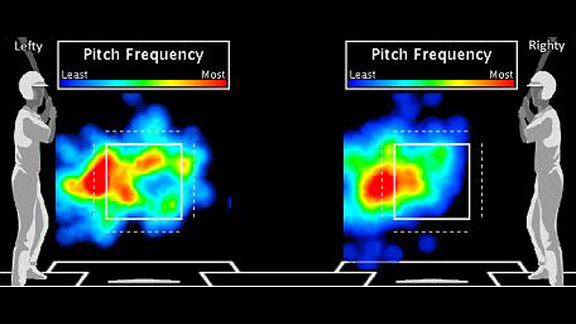 Cutters thrown by Brandon McCarthy in 2011.
Click here to create your own McCarthy heat maps.
The Major League Baseball regular-season opens in Japan for the fourth time, with the Seattle Mariners and Oakland Athletics squaring off at 6:10 a.m. ET on Wednesday.

Felix Hernandez will make his fourth straight Opening day start for the Mariners. It's the third straight time that his opening start has been against the Athletics. According to the Elias Sports Bureau, only one other active pitcher has thrown three consecutive season openers for one team against the same opponent. While with the Indians, CC Sabathia started on Opening Day from 2006 to 2008, with all three games coming against the White Sox.

His opposite number will be Brandon McCarthy, who will be the seventh different Opening Day starting pitcher for Oakland in the last seven years. Elias points out that the Athletics are the only team in the majors to use six different pitchers to open the last six seasons. That's nothing new for Oakland, which tabbed different starting pitchers for 10 consecutive Opening Day games from 1993 to 2002.
Hernandez is the more well-known of the two Opening Day starters, but McCarthy garnered a lot of attention this offseason for his commitment to analytics and was the cover story in a recent issue of ESPN The Magazine.
In 170⅔ IP last season, McCarthy allowed only five home runs and had a nearly 5-to-1 strikeout-to-walk ratio. He did so by transforming himself into a ground-ball pitcher.
The pitch that made McCarthy into a successful major league pitcher in 2011 was the cutter. After missing 2010 due to injury, McCarthy made a very strong impression in his return to the majors, pitching with much better control. The cutter played a big part in that.
Last season, 69 percent of McCarthy's cutters were thrown for strikes. Opposing hitters recorded just 16 hits in 100 at bats that ended with a cutter. He was even more dominant with two strikes, allowing just one hit in 52 at bats ending with two-strike cutters.
Quick hits
The two franchises have headed in opposite directions on Opening Day recently. The Athletics have lost seven straight season openers, including one against the Red Sox in Japan in 2008. The Mariners have won five straight Opening Day games since losing to the Angels in 2006.
MLB Opening Day in Japan
According to the Elias Sports Bureau, only one American League team has lost eight straight Opening Day games. The Washington Senators dropped eight straight from 1963 through 1970.
Also from Elias, the Mariners' five-year Opening Day win streak is tied for the longest in franchise history. They previously won five straight openers from 1982 to 1986.
Yoenis Cespedes is expected to make his major-league debut for Oakland. He signed a four-year, $36-million contract with the Athletics this offseason after hitting 33 home runs for Granma in the Cuban National Series during the 2010-11 season. That's tied for the most home runs in a single season in Cuba.
Ichiro Suzuki is 13-for-42 on Opening Day, and all 13 hits have been singles.
Justin Havens contributed to this post.