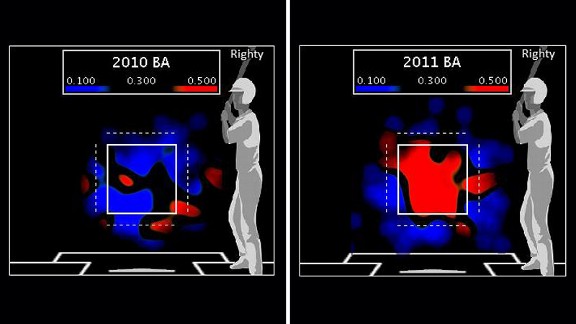 Matt Wieters' ability to hit from the right side of the plate improved dramaticaly from 2010 to 2011.
After a 2008 season in which Matt Wieters hit .355/.454/.600 in high-A ball and AA, many were ready to anoint him as baseball's next great catcher.
Baseball Prospectus' system PECOTA projected him for a .311/.395/.544 line for the Baltimore Orioles in 2009, a line that would have been historic for a 23-year-old catcher in his first major-league season.

Wieters
Wieters didn't perform to that level early in his career, with a Baseball Prospectus article at the beginning of 2011 naming him one of the 50 most disappointing prospects of all time, despite not even being 25 years old.
He broke out in 2011, and now is 69th in ESPN.com's ranking of the top 500 players.
Wieters earned his first All-Star appearance and won his first Gold Glove in 2011. He also won Baseball Info Solutions' Fielding Bible Award as the game's top defensive catcher. BIS credited Wieters with 14 Defensive Runs Saved, five more than any other catcher. He also led the American League by throwing out 37 percent of base runners attempting to steal.
At the plate, Wieters started slow but hit 12 home runs in the final two months of 2011, and finished with 22. He was the second catcher, 25 years of age or younger, to hit more than 20 home runs and throw out base runners at a rate higher than the league average in the last 25 seasons. According to Fangraphs, Wieters was worth 5.0 Wins Above Replacement in 2011, the most for a catcher who played at least 65 games.
Wieters, a switch-hitter, took a massive step forward from the right side of the plate last season. His OPS from that side jumped from .561 in 2010 to 1.120 in 2011. He hit half of his home runs last season from the right side of the plate in just over a quarter of his plate appearances.
Against left-handed pitching, in which all but four of his plate appearances from the right side came, Wieters' OPS ranked third among 226 players who had at least 100 appearances against lefties, with his slugging percentage ranking second.
Of note is Wieters' .459 difference in OPS against lefties and righties; that's by far the largest by any hitter who accumulated at least 400 plate appearances last season.
Much of Wieters' improvement as a right-handed hitter can be attributed to more success against off-speed pitches. His .786 slugging percentage against off-speed pitches from left-handed pitchers was by the far the best among the 119 hitters who saw at least 200 such pitches. Troy Tulowitzki ranked second at .695.