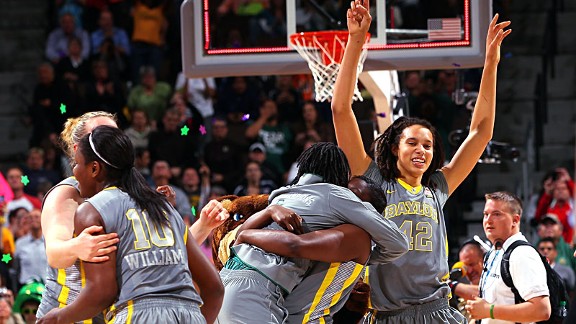 Doug Pensinger/Getty Images
Brittney Griner led the Baylor Bears to the first 40-win season in NCAA basketball history.Baylor completed its perfect season with an 80-61 win over Notre Dame, becoming the first NCAA team of either gender to reach 40 wins in a season.
It was the second national championship for the Bears and head coach Kim Mulkey, who also won the title in 2005. Baylor joins Connecticut and Tennessee as the only teams with more than one title since 1995.
Once again, the state of Indiana fell just short of a national championship. Notre Dame joins the Butler men's team in losing in the title game in back-to-back seasons over the past three years.
NCAA Tournament Interior Defense
Baylor and Kentucky won their titles on the shoulders of defensive stalwarts Brittney Griner and Anthony Davis. Both players blocked or altered over nine shots per game in the NCAA Tournament, including 16 by Griner in the championship game.
Brittney Griner blocked five shots against Notre Dame and has 599 blocks in her career. That leaves her one block short of joining Louella Tomlinson of Saint Mary's as the only players in women's history with 600 career blocks.
In addition to her five blocks, Griner altered an additional 11 shots on Tuesday. It was the most altered shots for Griner in the 2012 Women's Basketball Championship. She finished the tournament with 31 blocks, 15 more than the next-closest player (Devereaux Peters of Notre Dame), and 50 altered field goals.
Baylor Offense With Griner on Floor
Women's Championship Game
After scoring 13 points in the semifinals against Stanford, Griner scored a game-high 26 in the championship game and was named the tournament's Most Outstanding Player.
She got a touch on 31 of Baylor's 64 possessions, her second-highest percentage in this year's tournament. Entering Tuesday's game, Baylor was shooting 56 percent on possessions where Griner got a touch. Against Notre Dame, the Bears shot 64 percent and averaged 1.19 points per possessions when Griner got a touch.