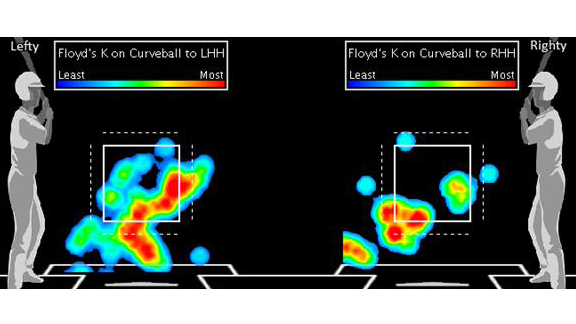 ESPN Stats & Information

Gavin Floyd struck out 71 batters on curveballs last season, the fourth-highest total in the AL.

Click here to create your own Floyd heat maps

Sunday Night Baseball kicks off (ESPN, 8 ET) with the Chicago White Sox in Arlington to take on the two-time defending American League champion Texas Rangers.

Rangers Ballpark in Arlington was the most hitter-friendly stadium in the majors in 2011. According to Elias, teams scored 41 percent more runs and hit 50 percent more home runs in Rangers home games than in their games on the road. Coors Field ranked second with 35 percent increases in both categories.

Starting pitchers

Gavin Floyd goes on the road for his first start of the season. In 2011, he was much better on the road than at U.S. Cellular Field. Away from home he was 8-6 with a 3.41 ERA; his 5.66 ERA at home was the third-worst among major league starters, better than only Brandon Morrow and John Lackey.
Lowest Opp BA vs Curveball
Starting Pitchers, Last 3 Years
Over the last three seasons, Floyd's curveball has been one of the hardest to hit in the majors. Opposing hitters bat .144 against his curve. Only Ricky Romero allowed a lower average when throwing curveballs.

Floyd is especially fond of the curveball in two-strike counts. Twenty percent of his pitches overall are curves, but with two strikes his usage jumps to 37 percent. Last season, Floyd struck out 71 batters on curveballs, the fourth-highest total in the American League.

Matt Harrison went from being demoted to the bullpen in 2010 to 14 wins last season. The key was cutting his walk rate by more than a third, from 4.5 walks per 9 innings in 2010 to 2.8 walks per 9 last season. In three-ball counts, he improved his strike percentage from 71 to 81 percent.

Among left-handed starters, Harrison had the fifth-highest average fastball velocity last season. He has steadily increased his velocity from 90.8 mph in 2008 to 92.7 mph in 2011. That added zip has been key to an effective high fastball. Opponents hit .216 on plate appearances ending in a high fastball last year, down from .261 in 2010.

Key matchup: Harrison vs Adam Dunn

Dunn had a strikeout and two walks against Derek Holland on Saturday and struggled against left-handed pitchers last season. The three-hole hitter in the White Sox lineup hit .064 and slugged .074 against lefties last year. It was the first time in his career that he slugged less than .400 against lefties.
Adam Dunn vs LHP, Last 3 Seasons
He was even worse against two of Harrison's strengths. He went 0-for-23 against sliders and 3-for-56 against fastballs from thrown by left-handed pitchers.

According to the Elias Sports Bureau, Dunn is the only major-league player in the past 50 years who batted below .100 in a season with at least 100 plate appearances versus southpaws.

Jeremy Lundblad contributed to this post