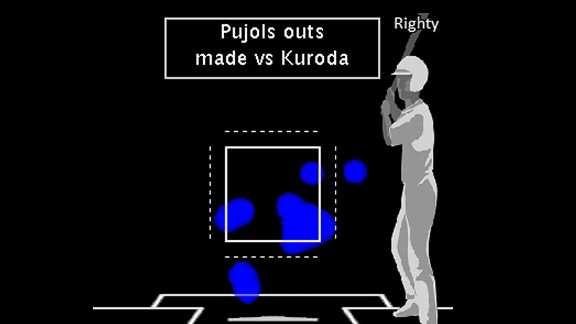 Pitch locations for the outs made by Albert Pujols against Hiroki Kuroda.
Click here to create your own Pujols heat maps
Albert Pujols and the Los Angeles Angels make their first trip of the season to the Bronx this weekend, opening a three-game series today with the New York Yankees at 1:05 ET.
This will be Pujols' debut at the new Yankee Stadium, having previously played an Interleague series at the old stadium in 2003 and in the 2008 All-Star Game. Pujols is 6-for-21 (.286) with two homers and three RBI in six career games against the Yankees but hasn't faced them since 2005.
Let's take a closer look at the matchup this afternoon:
Pujols vs Hiroki Kuroda
Hiroki Kuroda takes the mound for the Yankees, making his second start of the season after getting roughed up for six runs (four earned) in his debut last week. Kuroda has never allowed six-or-more runs in consecutive starts in his career.
Pujols vs Kuroda By Pitch Type
Pujols is 3-for-15 with a homer and four strikeouts in his career against Kuroda. With no walks, Pujols has an on-base percentage of .200 against Kuroda, his fifth-worst versus any pitcher he has faced at least 15 times.
Kuroda has done a good job of keeping the ball down against Pujols, throwing 60 percent of his pitches to him in the lower third of the zone and below. Of the eight non-strikeout outs that Pujols has made versus Kuroda, six have been groundouts.
Angels and Yankees Head-to-Head
Yankees vs Angels, 2011 Season
Last season the Angels lost the season series to the Yankees, 5-4, marking the first time they had lost the season series since 2003.
Since the divisional realignment in 1994, the Angels are the only AL team that has a winning record against the Yankees (92-85). The Angels are also the only AL team during that span to have a non-losing record against the Yankees in the Bronx (43-43).
Yankees Home Opener
This afternoon's game is also the home opener for the Yankees after the team started the season with six straight road games. The Yankees have won 18 of their last 20 home openers, and their 11-1 record since 2000 is the best in the majors during that span, according to the Elias Sports Bureau.
This is the third time the Yankees have played the Angels in their home opener. In 1968, Mel Stottlemyre threw a four-hit shutout as the Yankees beat the Angels 1-0; in 2010, the Yankees won 7-5 behind six scoreless innings from Andy Pettitte and home runs by Derek Jeter and Nick Johnson.
Stat of the Game
The Yankees are 6-0 all-time in home openers played on April 13.