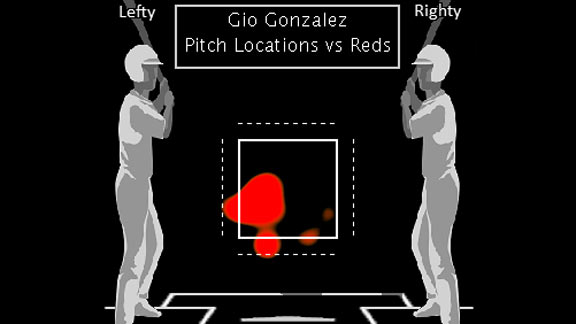 Most frequent pitch locations for Gio Gonzalez vs Reds on Thursday.
Click here to create your own Gonzalez heat maps
Don't look now, but the Washington Nationals have zoomed to the top of the NL East following their 3-2, extra-inning win over the Cincinnati Reds on Thursday afternoon.

The Nationals improved to 5-2, their best start since moving to Washington, and also win their first home opener since 2008. This is just the second time in the last 15 seasons the franchise has won five of its first seven games. In 2001, the Montreal Expos were 6-1 after seven games.
The Nats took a 2-0 lead into the ninth inning but Brad Lidge blew the save, allowing two runs on two hits and two walks. Lidge had allowed just one run over his previous 16 appearances dating to August of last year.
The Nationals won it in the 10th inning thanks to a wild outing by Reds reliever Alfredo Simon. Simon hit Ryan Zimmerman to lead off the inning and Zimmerman eventually came around to score four batters later on Simon's wild pitch with Roger Bernadina at the plate.
Washington Nationals
Wins Via Game-Ending Wild Pitch
This was the Nationals' fifth win on a game-ending wild pitch since moving to Washington in 2005. Entering Thursday, the Nats had lost their last six extra-inning games against the Reds and were 0-5 in one-run games versus Cincinnati over the last two season.
Gio Gonzalez got a no-decision but deserved the win, tossing seven scoreless innings with seven strikeouts and just two hits allowed.
Gonzalez had success going low as Reds hitters went 0-for-11 in at-bats ending with pitches down in the zone or below. Gonzalez also did a good job finishing off batters, allowing zero hits in 13 at-bats that reached a two-strike count.
Around The Diamond
• The Minnesota Twins came back from a six-run deficit against the Los Angeles Angels thanks to home runs from both Justin Morneau and Joe Mauer. It was the first time that Morneau and Mauer homered in the same game since July 6, 2010.

Garza• Matt Garza fell one out short of a shutout when he was pulled after 119 pitches in the ninth inning of the Chicago Cubs 8-0 win. Garza had his slider working, throwing 31 of them, as the Milwaukee Brewers were hitless including five strikeouts in nine at-bats ending with the pitch.
• The Detroit Tigers improved to 5-1 this season with a win over the Tampa Bay Rays. Austin Jackson scored a run and has now crossed home plate in all six games this season, the longest streak to start the season by a Tiger since Darrell Evans scored in the first eight games in 1986.
• Madison Bumgarner took a no-hitter into the sixth inning as the San Francisco Giants beat the Colorado Rockies 4-2. Bumgarner recorded a career-high 14 ground-ball outs (including a double play) with eight of them coming in at-bats ending in sliders.