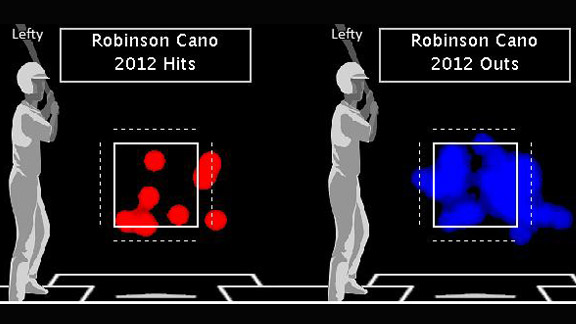 Robinson Cano's hits and outs in 2012
The New York Yankees host the Los Angeles Angels in Sunday Night Baseball (8 p.m. ET on ESPN). Let's preview the game by looking at powerless hitters, starting pitching matchups and yet-to-be-seen closers.
Ca'No' home runs yet
Robinson Cano has yet to hit a home run through the first eight games of the season. Over the last three seasons, Cano had homered at least once within the first three games.
Highest BA vs Pitches in Zone
2009-2011
Cano is missing pitches that he usually crushes. From 2009 to 2011, he was among baseball's best mashers against pitches in the strike zone.
The heat maps above show how Cano has gotten his hits and outs this season. He's just 6-for-26 against pitches judged by Pitch F/X to be within the zone.
Cano has twice had to wait as late as his 18th game before hitting his first home run, doing so in both 2005 and 2007.
Albert Pujols still homerless
Albert Pujols has not yet homered in 32 at-bats this season. The Elias Sports Bureau tells us that's the longest season-opening drought of his career. His previous worst was 27 at-bats in 2008, when he still hit 37 home runs that season.
Jerome Williams Matchups to Watch
Williams developed a pitch that is a cross between a cutter and a slider a few years ago and the pitch proved to be very effective for him during his recall last season.
When Williams is on, he's able to move the ball down and in to a left-handed hitter, down-and-away to a righty. He rarely throws a pitch to the upper-third of the strike zone and above, rating among the least-frequent throwers to that area in the majors.
Maybe this will be the cure for what ails Mark Teixeira, who has nine home runs and 11 doubles on cutters and sliders from righties since 2009.
Teixeira has been hungry for a right-handed pitcher to throw him a pitch on the inner-third. Of the 99 pitches he's seen from righties, only 15 have been thrown inside. Teixeira struggled against those pitches last season, but had a good history in previous seasons.
Ivan Nova Matchups to Watch
Nova was hittable for parts of his first start of the season against the Orioles, but was tough when he had to be, holding Baltimore to 2-for-12 with runners in scoring position.
That might be tougher tonight. The Angels are hitting .294 with runners in scoring position this season.
Most of the Angels have faced Nova only a few times, but the one who has had success is speedy centerfielder Peter Bourjos, who tagged Nova for three ground-ball singles and a home run in his five turns against him.
Nova has won 13 straight regular-season decisions. One more win would tie the second-longest win streak in Yankees history.
End Game
Neither team has used its closer in a save situation yet in this series, so perhaps the time will be right tonight.
Mariano Rivera has a history of issues against the Angels, with a 3.65 ERA, but much of that is from earlier in his career. Rivera has converted his last 14 regular-season save chances against the Angels dating back to 2008.
Angels closer Jordan Walden has appeared in only two of the first eight games of the season. He did save a pair of games against the Yankees last season, striking out four in three innings.
Walden is one of the hardest-throwing pitchers in baseball. He's thrown 18 fastballs this season and they've averaged 98 miles-per-hour.
Again, the best Yankee suited for that is Teixeira, who has six hits and three home runs against 98-plus pitches since 2009. The three home runs (two against Daniel Bard, one against Joel Zumaya) is the most in the majors.
The Yankee who might have the biggest issue is Nick Swisher, who is 1-for-13 in at-bats ending against 98-plus pitches in that span.