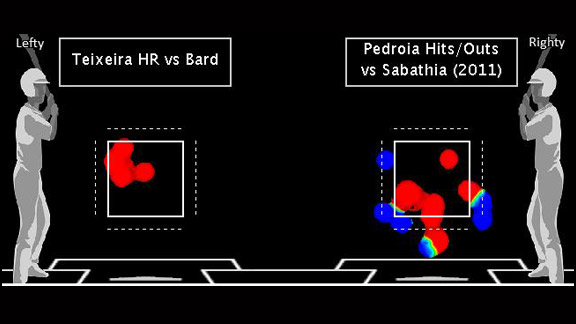 Left: Pitch locations for Mark Teixeira's home runs vs Daniel Bard.
Right: Dustin Pedroia's hits/outs vs CC Sabathia last season.
The New York Yankees will try to complete a three-game sweep of the Boston Red Sox on ESPN's Sunday Night Baseball (8 pm ET).
Here's a closer look at the key matchups that figure to play a significant role in this contest.
C.C. Sabathia Matchups to Watch
Although Sabathia is 7-9 career against the Red Sox and 3-4 against them at Fenway Park, his individual batter-pitcher matchups aren't as bad as you think.
Lefties Who Struggled at Fenway
Notable Pitchers
Adrian Gonzalez is 5-for-25 against Sabathia and struck out three times against him in their last meeting on August 30.
Dustin Pedroia has an odd history against Sabathia -- a .244 batting average (combining both regular season and postseason)- but he was 7-for-13 against Sabathia last season, albeit with five strikeouts.
David Ortiz is 5-for-30 against Sabathia since homering against him the first time that Sabathia faced him as a Yankee.
Ortiz has hit .346 against left-handed pitching since the start of 2011. That's a jump of 128 points from what he averaged against lefties from 2008 to 2010.
Sabathia has a 5.59 ERA in three starts this season. His April ERA is 4.16, his highest for any calendar month from April to September (his September ERA of 2.77 is his lowest).
Sabathia has averaged 91.5 miles-per-hour with his fastball in 2012. That's down a full mile-per-hour from what he averaged in both 2010 and 2011.
Hitters have swung and missed at the pitch at about a rate of one for every eight pitches thrown. In April, 2011, he got misses on about one of every six swings versus his heater.
With his 57th pitch on Sunday, Sabathia will have thrown 20,000 pitches (combining regular season and postseason) since 2007, the most of anyone in the majors.
Daniel Bard Matchups to Watch
Bard has the number of two Yankees hitters. Robinson Cano is 0-for-8 against him. Derek Jeter is 0-for-7. The only active pitcher whom Jeter has a worse-0-for against is Casey Janssen, against whom Jeter is 0-for-12. The only one for Cano is Gio Gonzalez (0-for-9).
Mark Teixeira has four home runs in 15 at-bats against Bard. The last three of those home runs came off fastballs recorded at 97 miles-per-hour or faster by Pitch F/X calculations. The only pitchers against whom he has more home runs are Bruce Chen (6) and Felix Hernandez (5).
Bard's fastball velocity has come down from the 97 miles-per-hour he averaged as a reliever to about 94 miles-per-hour. He threw the fastball for strikes 75 percent of the time in his first start of the season, but that dropped to 57 percent in his last start against the Tampa Bay Rays.
Bard has a 4-4 record and a 1.69 at Fenway Park. He's 1-11 elsewhere, with a 4.19 ERA.
It's Not How You Start. It's How You Finish
There is a sharp statistical contrast between the performance of the Yankees and Red Sox bullpens this season, evident Saturday when Red Sox relievers combined to yield 14 runs.
Red Sox Bullpen This Season
The chart on the right shows the difference between the two. Red Sox relievers rank last in the majors in all three categories listed. Yankees relievers rank second in ERA, fourth in home runs per nine innings, and ninth in opponents batting average.
Elias Sports Bureau Stat of the Game
A Yankees win would make them 459-459-4 against the Red Sox in Fenway Park. They have outscored the Red Sox there, 4,687-4,481