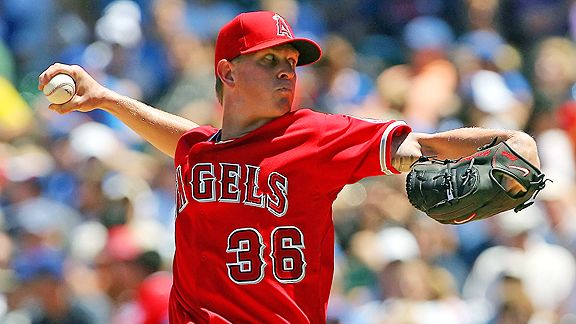 When Jered Weaver made his major league debut on May 27, 2006, the Angels were 20-28, in last place, and a full five games behind the division-leading Rangers. After the mega prospect blanked the Orioles over seven strong innings to the tune of a 75 game score, Angels fans were hopeful their rotation had been vastly improved by his addition. Weaver would finish the season with a 2.56 ERA in 123 frames, with an impressive 3.18 K/BB ratio and 1.03 WHIP. He walked few, proved stingy with hits allowed and recorded his fair share of strikeouts. Though his rookie numbers were impressive, many would agree that Weaver's lack of progress since then has been disheartening.
But after stalwart ace John Lackey left for greener pastures this past offseason, Weaver became the de facto No. 1 in the rotation, and boy has he lived up to that billing. Though he was somehow left off the AL roster for an All-Star Game that takes place in his own home park, Weaver has been magnificent in his 17 starts this season, compiling a 2.82 ERA and 4.77 K/BB ratio in 108.2 innings. Most impressive of all, however, has been his remarkable surge in the K/9 department. After averaging 7.3 punchouts per nine from 2006-09 with little deviation in each season, Weaver currently leads the league with both a 10.3 rate and a raw tally of 124 strikeouts.
What is incredibly interesting is that Weaver's strikeout rate has not just increased a smidgen, like say from 7.3 to 8.2 or even to 8.8; it has soared all the way to 10.3, an improvement of three strikeouts per nine innings, a delta that just screams rarity. Have other pitchers experienced strikeout rate jumps as substantial as what we are seeing from Weaver this season? The table below shows the top such spikes for pitchers with 100 or more innings for three straight seasons, comparing their three-year average to the fourth year in the span:
Biggest jumps in K/9 rates
But how is he improving his rate this much? Perhaps the help of our friend PITCHf/x will help us solve this conundrum. For starters, the table below breaks down Weaver's pitch distribution for the key ingredients of his repertoire over the last four seasons:
Now, I would normally write off information like this on account of the fact that PITCHf/x did not segregate two-seam and four-seam fastballs up until 2009, a process still being refined this season. However, the data above and below was provided by Harry Pavlidis, who has his own classification method that can be applied all the way back to the inception of the data; without the reclassification of several fastballs, Weaver would appear to have thrown no two-seamers prior to last season. Additionally, we have clinical evidence suggesting that Weaver did not begin throwing the two-seamer until the 2008 postseason. He worked on the pitch leading into the 2009 season and continually attempted to refine the pitch during this past spring training. The increase in usage is very much legitimate, and likely a key component of his improved rate.
The increased usage has also manifested itself in his pitch distribution with two strikes on the opposing hitters, which has helped not only to increase his rate of whiffing hitters, but also in keeping the ball on the ground, a characteristic never associated with Weaver in the past. The table below shows his pitch breakdowns on two-strike counts over the past four years:
As expected, his reliance on the two-seamer in two-strike counts has grown significantly, but he hasn't just pared back the four-seam heaters to make up the difference in these situations. Instead, he is throwing fewer changeups, which makes sense from the standpoint that a solid two-seam fastball provides enough of a change of pace to the hitter with its movement components compounded with decreased velocity to keep them off-guard.
In a larger sense, what is Weaver doing? Well, he is throwing a new pitch -- one he has consistently fine-tuned to the point that it is now a very effective weapon -- much more frequently than in the past. While a new pitch for some pitchers may result in an increase to their rate of grounders, Weaver's toy is giving batters ample trouble making any contact. Baseball Prospectus' Russell A. Carleton once found in another piece that pitchers held a seven-point advantage in the OBP department over hitters they had never faced before, which gradually lessened the more frequently the two faced one another.
Weaver has essentially become a new pitcher to many of his familiar foes due to the increased usage of a new and effective pitch. Not many pitchers have historically experienced such a large spike in their strikeout rate, but, aging effects aside, the group showed an average strikeout rate greater after the spike than in the years leading up to it, even if the rate in the year of the spike was not achieved again. If Weaver can continue to rely on his two-seamer -- and this is assuming it remains effective -- then we should not automatically expect a substantial regression in his rate in the coming years. He might not ever strike out almost 11 batters per nine innings, but Weaver is still a new pitcher.
Eric Seidman is an author of Baseball Prospectus.