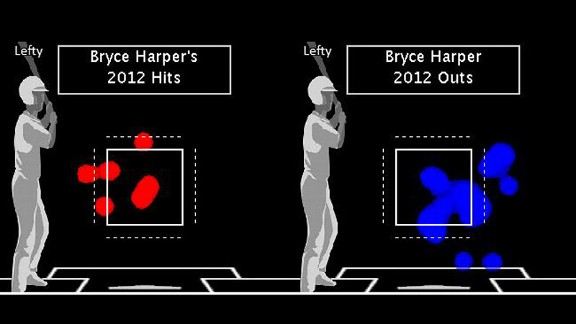 Bryce Harper is off to a strong start through his first seven games, though he's been susceptible to pitches down and away.
Sunday Night Baseball will be the setting for not just a pretty good pitchers duel, but the latest appearance for Washington Nationals phenom Bryce Harper.
Both pitchers have impressed through the first month of the season. Harper has made a significant mark already in his first week.
Let's take a look at a few of the interesting numbers regarding tonight's contest, as the Nationals go for the sweep of the Philadelphia Phillies.
Cole Hamels Stats to Watch
Adam LaRoche, the Nationals top hitter this season, has only four hits in 16 at-bats against Hamels, but three of the four hits have been home runs. That matches the most home runs that Hamels has given up to any left-handed hitter.
Hamels has 21 strikeouts with his changeup, the second-most of any pitcher in the majors (Seattle Mariners starter Felix Hernandez has 30). He's the rare lefty willing to throw it to left-handed hitters (such as LaRoche). He's registered seven strikeouts with the changeup against lefties, the most for any left-handed pitcher this season.
Hamels is 10-4 in his career against the Nationals. His 10 wins against Washington are one shy of his most against any team. Since the Nationals moved to Washington in 2005, only Tim Hudson (13-3) has more wins against them.
Hamels is 2-0 with a 2.05 ERA in Nationals Park, though he hasn't pitched there since 2010.
Bryce Harper Makes An Impact
Harper will be playing in his eighth game of the season on Sunday night. His four doubles since his debut on April 28 are tied for the most in the majors in that time period.
Notable Teenagers in 1st 7 Games
Harper has an OPS of .814 through his first seven games, a mark higher than Mickey Mantle, Alex Rodriguez and Ken Griffey Jr. among others, had in their first big-league week as teens.
Harper is 3-for-8 against left-handed pitching in his career, with four of the five outs coming on breaking pitches. He's yet to see a changeup from a left-handed pitcher.
Jordan Zimmermann Stats to Watch
Zimmermann has five straight quality starts, one shy of teammate Stephen Stasburg, who has run off six in a row. The last Nationals pitcher prior to Strasburg to start a season with six straight quality starts is Javier Vazquez, who did so in 2000.
Zimmermann is the major-league-leader in strikeout-to-walk ratio (7.33). Coincidentally, that's just a hair ahead of the pitcher he's facing tonight (Hamels—7.20)
Zimmerman's high mark comes partly due to his success rate when a hitter takes a pitch. He's registered strikes on 42 percent of his pitches this season, the second-highest rate among major league starters.
Zimmermann does not typically go deep into games in terms of pitch count. He's yet to throw more than 100 pitches in any start this season. Last season, opponents were 7-for-11 with three home runs when Zimmermann surpassed the 100-pitch mark.
In Zimmermann's first two career starts against the Phillies, he allowed 10 runs in eight innings. But his most recent start against them last season, he yielded only one run in seven innings.
An Offense Unful'Phill'ed
The Phillies have already had 15 games this season in which they've scored three runs or fewer, and they are 3-12 in those 15 games.
The Phillies are without both Ryan Howard and Chase Utley, both of whom ideally would be candidates to hit in the No. 3 position. In their place, Phillies No. 3 hitters are hitting .233 with a .558 OPS.
In Utley's absence, Phillies second basemen have a .593 OPS, third-worst among National League second basemen.