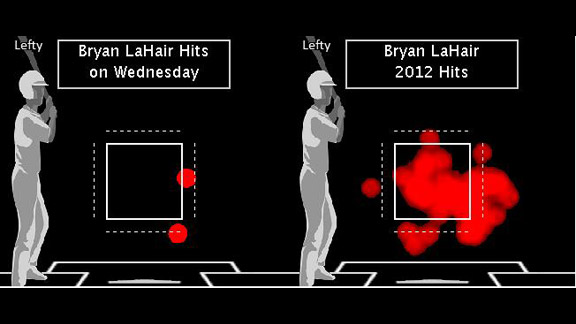 ESPN Stats & Info
When it comes to hitting outside pitches, no one has been better this season than Bryan LaHair.The Chicago Cubs' Starlin Castro is in his age-22 season and already has accumulated more than 1,000 plate appearances. He also continues to improve, raising his batting average each season: .300 in 2010, .307 in 2011, .347 in 2012.
That sort of ability to put the bat on the ball is legitimately rare in baseball history. Among shortstops, Castro's .308 lifetime batting average is the third highest through an age-22 season (see chart).
Highest Career BA by Shortstops
Through Age-22 Season Since 1901
Castro is steadily improving his recognition of off-speed pitches. Across the board, his performance has improved against changeups, sliders and curveballs. Castro has a tremendously high batting average on balls in play against such pitches (.453) and leads all of baseball with a .393 batting average on off-speed pitches.
Also, his strikeout rate on off-speed pitches has decreased each season (from 20.1 percent in 2010 to 14.5 this season), and his OPS has increased from .699 in his rookie season to .895 in 2012.
While Castro's future was already assured in Chicago, first baseman Bryan LaHair may have found a team to stick with, as well.
A 29-year-old minor league veteran, LaHair finally is getting a chance to play every day and is taking full advantage of it.
LaHair is absolutely destroying pitches on the outer half of the plate, leading all of baseball in both batting average (.436) and OPS (1.327) against such pitches.
On Wednesday, LaHair drove in the only run of the game on a pitch that was on the outside half of the plate.