Two of this season's most surprising starters face each other on Friday in Los Angeles, as the St. Louis Cardinals' Lance Lynn (6-1, 1.81) meets the Los Angeles Dodgers' Ted Lilly (5-0, 2.11).
Both Lynn and Lilly are getting great results on their fastballs, and Lynn's fastball is generating a lot of swings and misses in the zone (see chart).
Highest Miss Pct in 2012
Fastballs in Strike Zone
Opponents are hitting a major-league low .150 against Lynn's fastball, and .162 against Lilly's heater.
As good as Lilly's fastball has been, his changeup has been even better. Opponents are 1-for-27 (.037) on at-bats ending in Lilly's changeup.
If Lilly earns the win, he will be the first Dodgers starter to begin the season 6-0 since Kaz Ishii in 2002. Before that it was Orel Hershiser in 1988.
Verlander Feasts on National League Teams
It's no surprise that Justin Verlander has the highest miss percent this season on fastball in the strike zone at 26 percent. That's one reason he's dominated in Interleague play, which starts on Friday.
Verlander, who will face the Pittsburgh Pirates, is 15-2 with a 2.94 ERA in 20 interleague starts. That's the best win percentage in interleague play among pitchers with at least eight decisions.
Time to Panic About Albert Pujols Adrian Gonzalez?
So Albert Pujols has gone deep in back-to-back games. With three on the season, Pujols has one more than the Boston Red Sox' Adrian Gonzalez.
Gonzalez last homered on April 17. That's 106 at-bats without a home run. In that span, 280 players have gone deep at least once.
Typically, Gonzalez' power stroke is going the other way. Last year, 12 of his 27 home runs were hit to the opposite field. In 2012, he doesn't have one.
One reason for that is Gonzalez isn't hitting outside pitches for power. Last year he hit .310 with a .518 slug percentage on outside pitches. This season? His average is .163 and slug percentage is .204.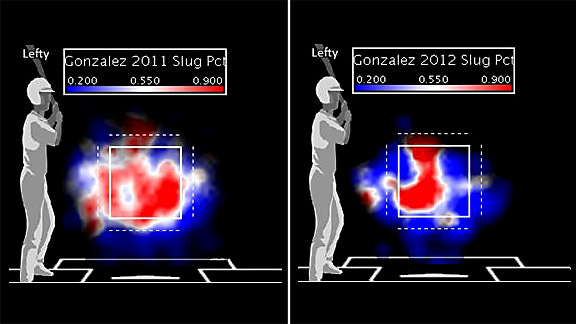 ESPN Stats & Info
Adrian Gonzalez' slug percentage, especially on pitches in the zone, is down considerably from 2011.