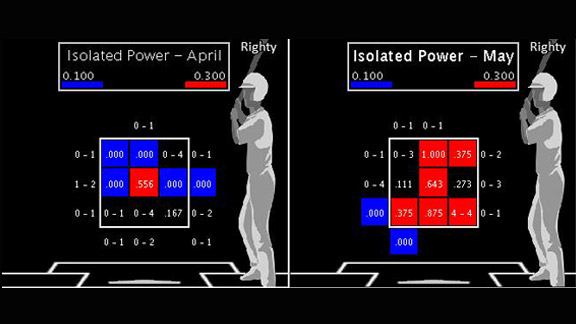 ESPN Stats & Information
After recording just five extra-base hits in April, Giancarlo Stanton has nine doubles and 11 home runs in May.The Miami Marlins scored three runs in the sixth inning, sparked by a two-run homer by Giancarlo Stanton, to beat the Washington Nationals and improve to an MLB-best 19-8 in May.
The Marlins have a chance to break the franchise record for wins in a month. Their 19 wins this month match the club record, previously set in August 1997.
The club's resurgence after finishing 8-14 in April has been keyed by Stanton.
Giancarlo Stanton This Season
Balls Hit to Left Field
After hitting just one home run and slugging .342 in April, Stanton has hit 11 homers and is slugging .735 in May. He ranks fourth in the majors in slugging percentage this month and is tied with Josh Hamilton and Adam Dunn for the most May homers.
His biggest improvement has come in hitting to left field with authority. His slugging percentage to his pull side has more than tripled and 9 of his 11 HR this month have gone to left field.
He continues to adapt to playing at Marlins Park. In the club's 13 May home games, he has five home runs and seven multi-hit games. In his first 11 home games this season, he hit a single homer and had just one two-hit game.
Giancarlo Stanton This Season
AB Ending On Inside Pitches
Stanton struggled against inside pitches in April, but has returned to his normal productivity against those pitches in May. Opposing pitchers are quickly adapting by throwing the pitch less frequently.
He has an isolated power (extra bases per at-bat) of .333 on pitches located on the inner third of the plate in May, after posting just a .034 mark in April. As shown in the table to the right, Stanton has been able to get the ball into the air with more frequency since the calendar turned.
Windy City Winners
• The Chicago Cubs snapped their 12-game losing streak with an 11-7 win against the San Diego Padres.
Something had to give in that game. The 12-game losing streak was tied for the longest in the majors this season with the Kansas City Royals, but the Padres have only five wins away from home, the lowest total in MLB.
• Aided by the wind blowing out to center at 24 miles per hour, the Cubs hit four home runs in a game for the first time since last August. They have won the last 13 games when they reached that plateau.
• The Chicago White Sox also picked up a win Monday behind the arm of Chris Sale. He finished with 15 strikeouts, one shy of the franchise record. Jack Harshman struck out 16 Boston Red Sox hitters on July 25, 1954.
• Sale's opposite number didn't have a bad game -- Matt Moore struck out 10 batters. According to our friends at the Elias Sports Bureau, they are the first opposing pitchers with at least 15 and 10 strikeouts in the same game since Pedro Martinez and Steve Trachsel in 2000.
They are the first pair of opposing lefties to each reach double figures in strikeouts since 1992, when Randy Johnson and Mark Langston pulled it off.