The ninth day of "Strasmus" – a.k.a. Stephen Strasburg's ninth career start - has finally arrived, with the flame-throwing phenom set to take the mound tonight in the Queen City. This will be the toughest matchup of his young career, as the Reds feature the league's best offense, leading the Senior Circuit in batting average, runs, slugging and OPS.
The twenty-first century version of the Big Red Machine – with an OPS of .779 that is ranked third in the majors - will be the first team that Strasburg has faced that has an OPS over .750 and is ranked in the top 10 in baseball. Prior to tonight, the best offensive team he had pitched against was the Braves on June 28, who entered that game with an OPS of .743 that ranked 11th in the majors.
While Strasburg has certainly put up some impressive numbers since his debut, like any other player, he is not without certain weaknesses. Here's a look at situations where Strasburg becomes a rather ordinary major-league hurler, and how a couple Reds players are primed to become his personal kryptonite this evening.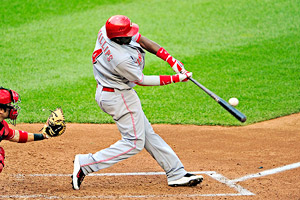 Ed Wolfstein/ Icon SMI
Reds second baseman Brandon Phillips is the best hitter in baseball against 95+ MPH fastballs in 2010
Strasburg is arguably one of the most dominant pitchers when he gets to a two-strike count. He's holding batters to a .298 OPS in those situations – the best among MLB starters (minimum 50 PA) - and has struck out an incredible 61.3 percent of the batters he's faced with two strikes, which is also the best in the majors and nearly double the league average rate of 37.5 percent.
However, he's rather ordinary when opposing batters are able to put the ball in play before reaching two strikes. Before two strikes, he is holding batters to an OPS of .883, which is only slightly better than the MLB average of .927. One Reds player that could really hurt Strasburg here is Joey Votto, with an OPS of 1.313 before two strikes that is the third-highest in the league (minimum 100 PA).
Strasburg has also been nearly untouchable with the bases empty, as batters have managed only a batting average of .168 in those situations, the best among MLB starters (minimum 75 PA). Yet when a runner reaches first base, he becomes surprisingly vulnerable. Opposing batters have a .355 batting average against him in those situations, well above the major-league average mark of .274. Votto once again looks to be the man to exploit this weakness, as he is hitting a robust .394 with a runner on first base only, the fourth-highest in the National League (minimum 50 PA).
Stephen Strasburg, Opp BA
Strasburg's reputation as one of the hardest throwers in the majors is supported by the fact that he has already thrown 60 fastballs with a speed of at least 99 mph – a number that is surpassed only by Ubaldo Jimenez, among MLB starters, who has tossed 83 99-mph fastballs. (But remember that Strasburg has thrown just 751 total pitches while Jimenez has thrown 2,044 pitches this season.)
However, his high heat has been somewhat hittable, as batters have posted a .237 average against him in at-bats ending on fastballs of at least 95 mph, which is only slightly lower than the major-league average of .247 on these pitches.
The Reds player to watch for in this situation is Brandon Phillips, who is hitting .650 (13-20) vs. fastballs of 95-plus mph, the highest batting average against these pitches in the majors (min. 15 PA)!
Highest BA vs 95+ mph Fastballs
Be sure to tune into Wednesday Night Baseball at 7 ET to see if Votto, Phillips and the rest of the team can bring their Red Kryptonite to the plate and give Strasburg his toughest challenge yet as a major-league pitcher.