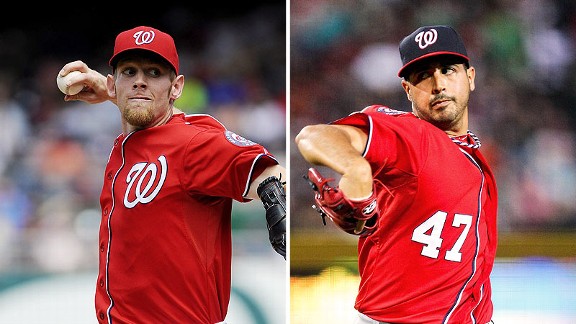 U.S. Presswire
Stephen Strasburg (right) and Gio Gonzalez (left) have racked up strikeouts in 2012.The Washington Nationals starting rotation goes far beyond just Stephen Strasburg, with the offseason additions of Gio Gonzalez and Edwin Jackson, as well as the return-to-health of Jordan Zimmermann.
The Nationals starters are well on their way to one of the great single-season pitching performances from a starting rotation, particularly in one category: strikeouts.
Gio Gonzalez will look to keep the strikeout run going when he faces the Red Sox later this afternoon at Fenway Park
Chasing a Mark
The Nationals rotation is currently striking out 23.5 percent of all batters faced. That would be the highest strikeout rate for a starting rotation in the Expansion Era (since 1961).
Highest Single-Season K Rate
Starting Rotation in Expansion Era
The Nationals are not just threatening the Expansion Era-mark for all MLB teams, they are on pace to finish way above their previous franchise best.
That mark of 19 percent was set in 1996
Strasburg/Gonzalez:
The New Schilling/Johnson?
What Stephen Strasburg and Gonzalez are doing so far this season merits comparison to that of another righty-lefty duo—Curt Schilling and Randy Johnson-- particularly considering it is those 2002 Diamondbacks whose record the Nationals are chasing.
Strasburg and Gonzalez have both done their part to this point, ranking 1-2 in the majors in strikeout rate among starting pitchers. Strasburg has struck out nearly 33 percent of the hitters he's faced. Gonzalez has struck out 31 percent of hitters. The next-closest starter, Max Scherzer of the Tigers, is three percentage points behind.
Strasburg and Gonzalez are on pace to be the first starters to strike out 30% or more of batters faced since Rich Harden in 2008 and among an exclusive list to do it since 2000.
Johnson and Schilling combined for a 47-12 record and 2.77 ERA in 2002, striking out nearly 32 percent of the hitters they've faced. Gonzalez and Strasburg are comparable, with a 14-3 mark and 2.36 ERA.
How They've Improved
While Gonzalez has made a number of improvements this season, one in particular that has helped with the increase in his strikeout rate has been his effectiveness at spotting his curveball against right-handed batters.
Gio Gonzalez: Curveball
Vs Right-Handed Batters
Gonzalez has reduced the frequency with which he throws the changeup to righties (from about once every four pitches to once every five), but the pitch has been very effective.
The heat map below shows the difference in location from 2011 to 2012. The chart alongside this piece shows the difference in his success with the pitch.
Gonzalez will be challenged against the Red Sox on Saturday. He's allowed at least three runs in each of his five starts against the Red Sox, and four runs in each of his last three appearances against them.