On May 24, the Cincinnati Reds' Joey Votto was hitting a respectable .295. Since then he's been the hottest hitter in baseball.
Votto is hitting .506 (40-79) since May 25. The next closest average is .388 by Carlos Gonzalez of the Rockies.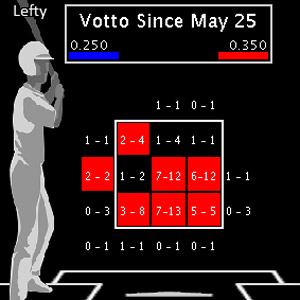 ESPN Stats & Info
Since May 25, there have not been any holes in Joey Votto's swing, at least when the ball's in the strike zone.
Votto has 44 hits in his last 100 at-bats, including seven home runs and 12 doubles. According to the Elias Sports Bureau, Votto is the first Reds player since Frank Robinson in 1961 with at least 44 hits, including at least 19 for extra bases, in a span of 100 at-bats.
Votto's .491 on-base percentage would be the fifth-highest single-season mark in the expansion era (since 1961), and the best by a player not named Barry Bonds.
With 29 doubles in Cincinnati's first 66 games, Votto's on pace for 71. The single-season record is 67, set by Earl Webb in 1931.
Votto has reached this level of performance through some notable improvements over the past few seasons, most notably his ability to draw walks.
A good portion of Votto's walk rate has been his ability to lay off pitches outside of the strike zone. Not only has Votto's batting eye improved each season since 2010 -- as measured both by the rate at which he swings at pitches outside of the zone and his walk rate on those pitches -- but he's actually doing significant damage with those pitches.
In 2011, Votto's OPS on pitches outside the strike zone was .741. This season it's up to .953, the fourth-best this season.
-- Justin Havens and Katie Sharp contributed to this post.