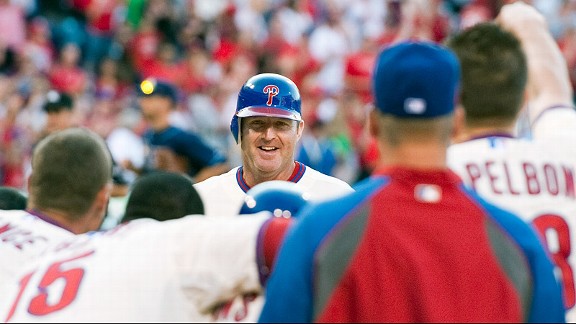 US Presswire
Jim Thome hit his MLB-record 13th career walk-off home run on Saturday against the Rays.The game of the afternoon took place in Philadelphia, where Jim Thome sent Philadelphia Phillies fans home happy when he launched a pinch-hit walk-off home run in the bottom of the ninth inning to beat the Tampa Bay Rays 7-6.
Most Career Walk-Off HR
MLB History
He now has 13 career walk-off home runs, the most in major league history. It was his first as a pinch hitter and first as a 40-year-old.
The blast came just moments after Jonathan Papelbon blew his first save of the season. Papelbon had converted 17 straight saves before Saturday, which was the second-longest active streak in the majors.
Thome's homer may have been predictable given his pedigree, but Juan Pierre's three-run home run in the fourth inning likely caught many people by surprise.
It was just his 17th career home run and first ever with more than one runner on base. In fact, it was his first non-solo homer since Aug. 21, 2004.
NL CENTRAL RACE HEATING UP
Summer may be just a few days old, but the race in the NL Central is already reaching scorching temperatures. The top three teams all won on Saturday afternoon to remain separated by just three games.

Let's start with the I-70 series, where the third-place St. Louis Cardinals beat the Kansas City Royals 8-2, and have now outscored them 19-6 in the first two games of this series.
Adam Wainwright had another strong outing, allowing two runs in seven solid innings. He has a 2.70 ERA in his past four starts, after starting the season with a 4.98 ERA in his first 11 starts. He has allowed just four hits in 31 at-bats (.129) ending in a curveball over his past four starts.
Against the Royals Wainwright threw just 52 percent first-pitch strikes, but battled back. He retired all five hitters he took to a 2-0 count, including two via strikeout.
Matt Holliday was the offensive spark with his second four-hit game of the season. Holliday is 16-for-29 (.552) with 10 RBIs in his past seven games, and has raised his average from .267 to .297 in a week.

The second-place Pittsburgh Pirates continued their surge in the standings as they beat the Detroit Tigers 4-1 for the second straight day. On Sunday they will go for their first-ever sweep of the Tigers.
The Pirates are really enjoying their games at PNC Park, where they have the majors' second-best home record (23-12) and the best ERA (2.26). They have won 12 of their past 14 home games, after starting the season 11-10 at home.

The first-place Cincinnati Reds ended their season-high four-game losing streak with a 6-0 blanking of the Minnesota Twins. Their record of 35-23 since April 19 is the second best in the majors during that span behind the New York Yankees.
Johnny Cueto pitched another gem, tossing seven scoreless innings with a season-high nine strikeouts. He worked away from the Twins' hitters, throwing a season-high 63 percent of his pitches in the outer third of the zone or further away.
The Twins had just one hit in 13 at-bats ending in a pitch to that location and fouled off half of their 30 swings against those pitches. Six of Cueto's nine strikeouts came on pitches away, matching his most of that kind in any start since 2009.