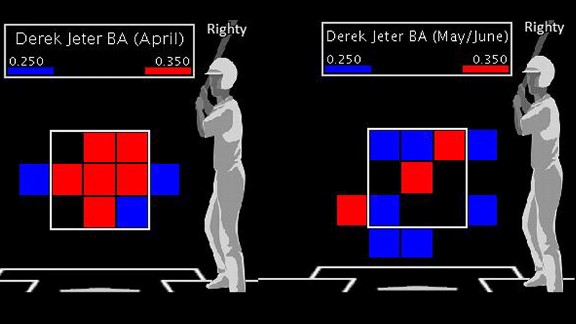 ESPN Stats & Info
Since hitting .389 in April, Derek Jeter has really struggled in May and June.
Happy birthday to Derek Jeter, who turns 38 today. Not surprising, June 26 has been a good day in the hitter's life. Jeter owns a .318 average (14-for-44) in 11 career games on his birthday but has never gone deep.
Jeter passed one significant milestone last year when he joined the 3,000-hit club at the age of 37, and the inevitable question arose of whether The Captain would ultimately end up as baseball's Hit King, passing Pete Rose for the most hits in major league history.
Pete Rose vs. Derek Jeter
Before Turning 38
So far, so good for Jeter. With 3,181 career hits and a .313 career batting average, he already has more hits and a higher batting average than Rose did at the time of his 38th birthday.
In fact, according to Elias, only two players in major league history have had more hits before turning 38 than Jeter: Ty Cobb (3,666) and Hank Aaron (3,272).
Both those players entered a period of steep decline at the age of 38, but Rose remained a prolific hitter even at an advanced age.
He had 208 hits in his age-38 season and averaged 176 hits over four seasons from age 38 to age 41 before his decline period set in, when he averaged just 97 hits over his final four seasons before retiring at 45 years old.
According to the Elias Sports Bureau, Rose is the only player who had 1,000 or more hits from age 38 to the end of his career. The top four are Rose (1,086), Sam Rice (950), Honus Wagner (784) and Carl Yastrzemski (742).
Jeter cools off after hot April
Jeter currently leads the AL with 93 hits, but after a scorching April, he has cooled off in May and June. His batting average peaked on May 4, when he was at .404 through 26 games, the last date he was over .400 this season. He had 46 hits at that point in 114 at-bats.
In his last 45 games, Jeter is hitting just .245, and he has 47 hits in 192 at-bats. Jeter had the best batting average in the AL through May 4, but ranks 53rd out of 66 qualifiers starting on May 5, just behind Brennan Boesch.
Derek Jeter This Season
His strikeout and walk rates remain similar in both time periods, but one significant difference is that he is hitting more ground balls.
He is also not hitting the ball with as much authority. Through May 4, nearly one in every four at-bats ended in a well-hit ball in play. Since then, just one in every six at-bats has resulted in hard contact.
Another issue is that he is uncharacteristically struggling against lefties over the past month-and-a-half. Jeter owns the fourth-best batting average against lefties among active players and hit .575 against them in his first 26 games. But he has a .205 average against southpaws since then.
Tonight, he'll face sinkerballer Justin Masterson, which might suggest trouble for Jeter and his ground ball tendencies. However, Jeter is 6-for-15 (.400) career against the right-hander. Of his 13 balls in play against him, seven were hit on the ground.
--Katie Sharp contributed to this post