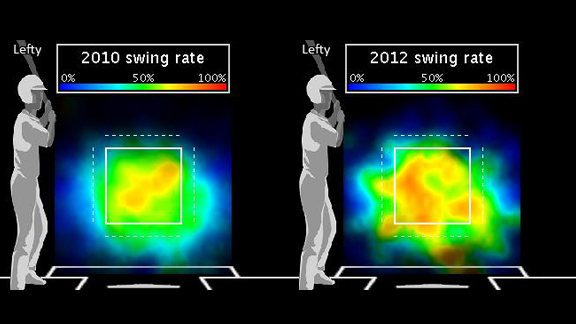 ESPN Stats & Info
Heyward is swinging more than ever, both in and out of the strike zone.When Jason Heyward burst onto the scene as a 20-year-old rookie in 2010, his most impressive attribute was an advanced approach at the plate – advanced for any rookie, unheard of for a player his age.
Heyward walked in 14.6 percent of his plate appearances as a rookie, a mark eclipsed by only two qualified 20-year-olds since 1901. Those two players? Hall-of-Famers Mel Ott and Ted Williams.
Heyward slumped as a sophomore last season while battling a shoulder injury, but this season he is starting to recapture the ability that made him the top prospect in all of baseball just three years ago.
Jason Heyward
He has a .365 wOBA (weighted on-base average) this season after posting a .376 wOBA as a rookie. Although the results have been the essentially the same, the approach has been quite different, which can be seen in the heat map above.
Under new hitting coaches Greg Walker and Scott Fletcher, Heyward retooled his swing in the offseason and he's swinging more than ever – both in and out of the strike zone. Although this aggressive new approach has resulted in fewer walks and more strikeouts – usually not an ideal combination – it seems to be working for Heyward. In June, he's posted the second highest OPS of his career in a calendar month (1.060) while also posting his lowest walk rate (4.4 percent).
As part of his retooled swing, Heyward is also getting a lot more loft on the ball, helping aid his developing power. Nearly the same rate of his fly balls are leaving the yard, but he's hitting fly balls nearly twice as often this season compared to his rookie year.
In June, Heyward has broken through by crushing outside pitches.
Jason Heyward vs Outside Pitches
This Season
After hitting .203 in April and May in at-bats ending with an outside pitch, Heyward is hitting .462 against those pitches in June. Five of his six homers this month have been on outside pitches and his 1.026 slugging percentage leads all of baseball during that span.
Heyward will be tested Saturday against Nationals ace Stephen Strasburg. Strasburg leads the National League with 118 strikeouts, and he's shown the ability to put hitters away with all three of his pitches (40 strikeouts on fastballs, 37 on changeups and 41 on curveballs).
Strasburg's changeup, in particular, could be key Saturday. He throws it 25 percent of the time against lefties and 63 percent of those changeups are outside. He also owns the highest miss percentage in baseball on the pitch (53 percent). Heyward is hitting .391 against changeups this season, which ranks 7th in the NL.