Jared Wickerham/Getty Images
Cody Ross connects on his third HR in two days, his third career walk-off HR, in the Red Sox win.
Cody Ross hit a walk-off home run against Chicago White Sox closer Addison Reed to give the Boston Red Sox their fourth win in their past five games. It's Ross' third career walk-off home run and fifth career walk-off hit.
Walk-off HR vs Cubs and White Sox
In MLB History
His previous walk-off homer came against the Chicago Cubs. According to the Elias Sports Bureau, Ross becomes the fourth player in major league history with a walk-off home run against the Cubs AND the White Sox.
Oddly enough, all four of those players hit one against the Cubs and then the White Sox.
It ruined a great outing by 23-year-old White Sox starter Jose Quintana.
For the third time this season, he threw eight shutout innings and got a no-decision.
According to Elias, he's the first pitcher in baseball's Modern Era (since 1900) to have three such starts in a single season.
It's Ross' third home run in the past two days, and all three of them have been three-run shots. He's accounted for nine of the team's 13 RBI in the past two games.
His longball Thursday went down the leftfield line, a spot Ross is becoming familiar with at Fenway Park. Check out his hit chart on the right to see where Ross' balls in play have gone at home this season. Only three of his hits have been to the right of second base.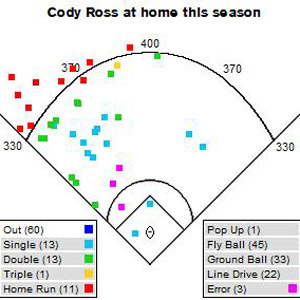 Only three of Cody Ross' hits at home have been to the right of second base this season.
For the Red Sox it's just their second walk-off win of the season -- only three teams have fewer. It's the first time since 1995 the Red Sox scored their only runs in a game via a walk-off HR. Troy O'Leary took Bobby Ayala deep in a 2-1 win over the Seattle Mariners on June 4 that season.
For the White Sox, it's their 11th loss in their opponents' last at-bat -- the Tigers (12) are the only AL team with more. It's also their 22nd comeback loss this season -- only the Mariners have more in the American League.
The bullpen has been a trouble spot for the White Sox this season.
They entered the night with the most blown saves, the third-worst bullpen ERA and the third-most HR allowed in the American League.
Quintana held the Red Sox hitless (0-for-10) with two strikes, including 0-for-7 against his slider, and recorded a season-high 13 ground ball outs (including a double play).
Boston starter Clay Buchholz was also fantastic, allowing just the one run in eight innings pitched and striking out six. He attacked the Chicago hitters, who went 1-for-12 against pitches on the inside part of the plate or farther in (including 1-for-10 against his fastball/cutter).
When he got to two strikes, he threw seven changeups, and White Sox hitters were 0-for-5 with four strikeouts in at-bats ending with a two-strike change.