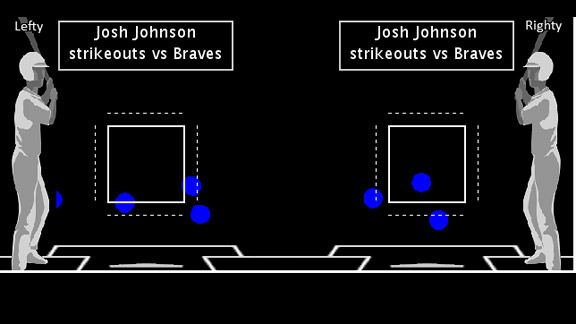 Josh Johnson netted seven whiffs with his breaking pitches on Monday.Marlins starter Josh Johnson may have only lasted six innings due to a cut on his hand, but this was the vintage version of Johnson that beat the Braves on Monday.
Johnson struck out nine and walked none in his six innings of one-hit ball, the first pitcher to do the one-hit, nine-whiff, no-walk combination in no more than six innings since Jordan Zimmermann for the Washington Nationals two seasons ago.

JohnsonJohnson had his best breaking ball in this start. Braves hitters missed on 12 of their 18 swings against his breaking pitches.
But this was nothing new. Johnson struck out seven Braves with the combination of his curve and slider, the third straight start against the Braves in which he's done that.
The key to the success of that pitch was its location. Of Johnson's 36 breaking balls, our pitch-performance tracking tool noted 31 as being in the lower-third of the strike zone or below. The image atop this story shows the location of Johnson's breaking pitches that notched strikeouts.
Johnson had allowed at least one hit with the breaking ball in each of his last six starts, and yielded a homer with it in each of his previous two.
Some in the stat community feel that Johnson will improve in the second half of the season because his combination of strikeouts, walks and home runs is indicative of a pitcher with a lower ERA.
Entering the Monday start, Johnson's FIP (an abbreviation for Fielding Independent Pitching, an ERA estimate based on that combination of numbers) was 3.13, far below his season-ERA of 4.35 entering Monday.
In fact, the 1.23 differential was the fourth-highest among pitchers who are currently qualified for the ERA title. The three higher are Jake Arrieta, Tim Lincecum, and Jon Lester.
Johnson also entered with the highest batting average on balls in play (BABIP) of any National League pitcher (.345), but Marlins defenders were able to turn nine of the 10 balls hit against him into outs.
The Other One-Hit Wonder
Chicago Cubs starter Jeff Samardzija was fantastic in his eight innings of one-hit ball in beating the Pittsburgh Pirates on Monday.
He became the first Cubs starter to allow one hit in eight innings or fewer against the Pirates since Moe Drabowsky (who became better known for his baseball heroics in the 1966 World Series) in 1958.
Samardzija threw 72 percent of his pitches for strikes, which was just shy of a season-high. He also did not allow an opponent to hit a line drive for the first time all season.
Elias Sports Bureau Stat of the Night
Mike Napoli homered again for the Texas Rangers in their rout of the Boston Red Sox. The homer gave Napoli a home run in four straight games against the Red Sox.
That's actually the second time he's had a streak of four straight games with a home run against the Red Sox.
Only two other players have had such streaks against that franchise—Hall-of-Famers Harmon Killebrew (four) and Lou Gehrig (two).