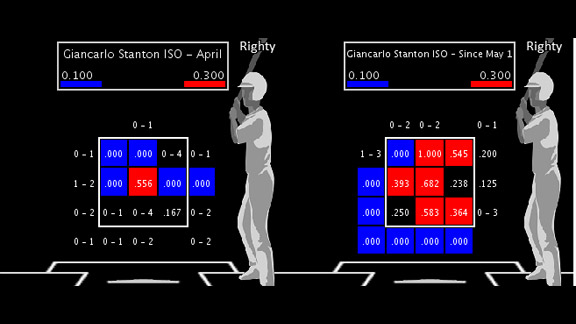 ESPN Stats & Information
Giancarlo Stanton had only one home run in April, but since then he's been hitting with power over most of the strike zone.One game after returning from the disabled list, Giancarlo Stanton recorded his first multi-home run game of the season as the Miami Marlins blanked the New York Mets 13-0 Wednesday night.
As he has done all season, Stanton punished fastballs in this game. Three of his four hits came against heat, and the other came on a slider that was only five miles per hour slower than the fastball on the previous pitch.
Giancarlo Stanton This Season
The key to getting the young slugger out this season has been to get him to chase pitches outside the strike zone. All four of his hits Wednesday came on pitches in the zone, and all 21 of his home runs this season have been on strikes.
That contrasts sharply to his numbers outside the zone, where he hits .154 and only has four extra-base hits in 91 at-bats this season. Over 40 percent of his plate appearances that end on pitches outside the zone have been strikeouts.
The Mets were unable to get Stanton to chase any of four pitches outside the zone. His first two hits against Chris Young came on the first pitch, a situation where he hits .477 and slugs .818 on the season.
Stanton's second home run was on a line drive. He leads the majors with seven line-drive home runs this season and his 14 line drives to leave the park since his debut in 2010 trail only Jose Bautista and Mark Trumbo.
Surprisingly, neither of Stanton's home runs against the Mets topped 400 feet. Coming into the game, 11 of his 19 home runs had a true distance of at least 400 feet.
His two homers in the game give Stanton 21 for the season. The Elias Sports Bureau confirms that he joins Alex Rodriguez as the only active players with three 20-homer seasons before turning 23.
Longest Hit Streaks in Marlins History
Gone Fishing
Jose Reyes extended his hitting streak to 26 games. That's the longest hitting streak ever for a player after leaving the Mets, snapping a tie with Jeff Kent. It also ties Emilio Bonifacio for the second-longest hit streak in Marlins history.
The 13-run margin in a shutout ties the second-largest in franchise history; the Marlins beat the Colorado Rockies 17-0 in a game in September 1995.