Kevin C. Cox/Getty Images
Ben Sheets has used his curveball in his successful return to the big leagues this season.
The Atlanta Braves finish up a three-game series in Queens against the New York Mets on "Sunday Night Baseball" (ESPN, 8 ET), with Atlanta's Ben Sheets and New York's Jonathon Niese squaring off.
Sheets has been quite a story in his return to the majors this season. After not pitching since July 2010, and undergoing surgery to repair his whole elbow, he returned on July 15, when he held these Mets to two hits, striking out five and walking just one in six shutout innings.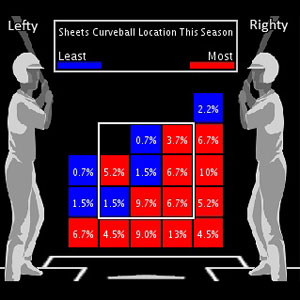 Sheets has kept his curveball out of the middle of the strike zone this season.
The Braves are 4-1 in his five starts this season, all quality starts. He's done it with his familiar curveball.
Opponents are hitting just .159 against his hook this season, with 14 of 44 at-bats ending in a strikeout. Ten of the strikeouts have come on pitches outside the strike zone.
As you can see in the heat map on the right, he's keeping it out of the middle of the strike zone. Opposing hitters chase more than 40 percent of his curveballs out of the zone (MLB average is 28 percent) and miss almost a third of their swings against the pitch (MLB average is 30 percent).
When Sheets gets ahead of hitters 0-2, more often than not he's going with the curveball. He throws it almost 70 percent of the time and hitters are just 1-for-11 against it in 0-2 counts (hitters are 1-for-3 against his fastball in the same situation).
Ben Sheets Past 2 MLB Seasons
Overall, he's allowed just two extra-base hits, struck out 14 and walked none with the curveball this season.
Before signing with the Braves, Sheets last pitched in the big leagues in 2010 with the Oakland Athletics. That year he relied mainly on his fastball, but this year he's using his cutter more. That's helped with his control; he's cut his walk rate nearly in half.
STATS TO WATCH
• Chipper Jones has hit 49 career home runs against the Mets, tied with Mike Schmidt for the second-most against them. Willie Stargell hit 60 against New York in his career.
• The Braves have won seven straight games over the Mets, their longest win streak against New York since winning eight straight during the 2009 season.