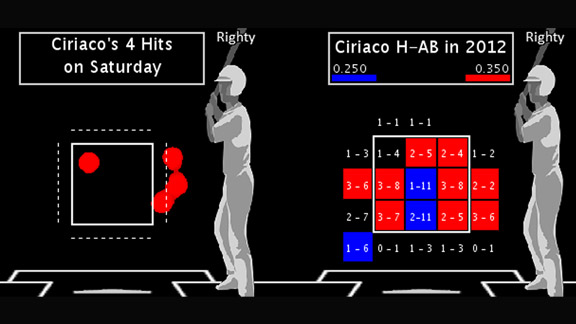 Pedro Ciriaco had an unusual Saturday, which fits well with the way his season has goneNot a lot has gone right for the Boston Red Sox this season, whose highlight may be the emergence of Pedro Ciriaco as a legitimate player.
Ciriaco's 4-for-4 day in Saturday's win over the New York Yankees put him in elite company. It was his second four-hit game of the season against the Yankees.
Multiple 4-Hit Games vs Yankees
Single-Season by Red Sox
Ciriaco has done something that teammates like David Ortiz and recent former Red Sox like Nomar Garciaparra never did- have multiple four-hit games in a season against the Yankees in their time in Boston.
He's the first Red Sox player with two such games against the Yankees since Hall-of-Famer Wade Boggs in 1989.
The chart on the right shows other Red Sox to do this over the last 40 years.
It's not often that a player with less than 70 career games played can end up on the same list with Boggs, Jim Rice and Carl Yastrzemski, but Ciriaco has now done that.
Ciriaco is hitting .517 against the Yankees this season. The last Red Sox player to hit .500 against the Yankees in a season in which he had 30 plate appearances is another notable-- Manny Ramirez in 2006.
But what's really intriguing about Ciriaco is the image atop this article.
In his brief stint this season, Ciriaco has established a reputation as being able to hit pitches thrown just about anywhere. He had three hits against pitches that were out of the strike zone, and almost in the right-handed batters box.
Only one other player has had three hits in a game on pitches of that nature this season- Ryan Braun.
The other fascinating thing about the image above is the heat map on the right hand side. Ciriaco has 36 hits this season, and nearly half (17) have come on pitches that were out of the strike-zone.
Ciriaco's style has been successful but for two areas within the strike zone- the two that are among the most favorable for a major league hitter.
The blue shading represents areas in which Ciriaco is a combined 3-for-22 (.136 batting average). The average major league hitter hits .319 against those pitches.
The good news for Ciriaco—everywhere else he's been pitched, he's hitting a robust .398.