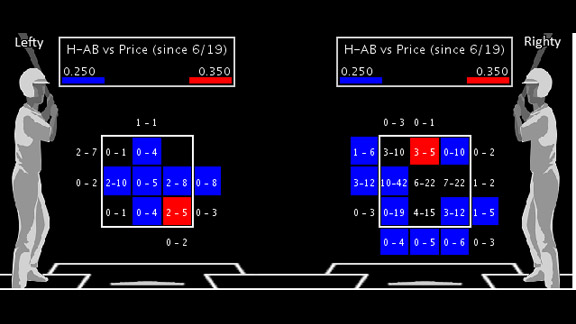 Opponents are hitting .189 against David Price in his last 11 starts.
What has helped to spur David Price's remarkable run since late June?
Price has won his last eight decisions and has a 1.72 ERA in his last 11 starts, heading into tonight's matchup against the Kansas City Royals.
A reduced emphasis on his changeup has been a part of that success.
David Price - 2012 Season
Price's changeup has never been his go-to pitch, as he usually relies on one of the most devastating fastball-breaking ball combinations in the league and, largely, succeeding off just those three pitches.
Through his first 13 starts, Price was using the changeup over 15 percent of the time and, while he was quite good, he's been better since reducing its usage.
Over the last 11 starts – including last Thursday against the Los Angeles Angels – he's thrown it on average less than 10 percent of the time, and has not lost since adjusting his repertoire in that manner.
David Price: Changeup Usage
2012 Season
Now, that's over his last 11 starts. What does it look like if we break it down start-by-start?
Overall this season, Price has been more effective when he's thrown the changeup 10 percent of the time or less.
With the changeup not as much in the mix, the breaking pitch has become a more valuable weapon for Price.
In his first 13 starts, he had 32 strikeouts with his curveball and slider. In his last 11, he has 42 strikeouts with those two pitches.