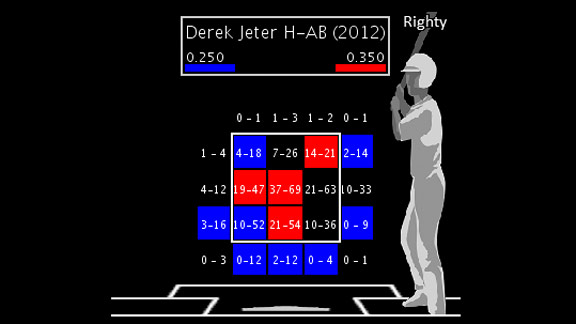 Derek Jeter is still a tough hitter to pitch to at age 38
The statistical resurgence of New York Yankees shortstop Derek Jeter was in impressive form in Monday's loss to the Chicago White Sox.
It wasn't the best of nights for Jeter's teammates, but the Yankees captain reached a few impressive plateaus, doing so in the manner by which he's starred both recently and throughout his career.
Let's take a closer look.
Moving up the Record Books
There was seemingly no end to the list of statistical accomplishments for Jeter on this night.
As the chart on the right shows, he moved up a couple of spots on the all-time hits, bumped up a notch on the all-time runs scored list, and climbed one spot on the Yankees all-time home-run hitter list.
Derek Jeter's Night
Who He Passed/Caught
The next statistical milestone for Jeter after passing Eddie Murray on the all-time hits list (they're tied for 11th with 3,255) will be catching baseball legend Willie Mays.
Mays ranks 10th all-time with 3,283 career hits.
The Four-Hit List
This was Jeter's 44th four-hit game of his career, matching Ivan Rodriguez for the second-most four-hit games in the last 25 years.
The top name on that statistical list is Jeter's teammate, Ichiro Suzuki with 48.
Another Jeter teammate, Alex Rodriguez, ranks tied for fourth with 41, and he's tied Dante Bichette, whose son happens to be a Yankees prospect.
Jeter is nine games shy of the Yankees record of 53 four-hit games, set by Lou Gehrig.
How he's hitting
After struggling through a June in which he hit .232, Jeter is hitting .376 since July 3, raising his batting average this season to .326.
You can see in the image atop this article that Jeter has thrived on pitcher's mistake pitches all season. Three of those turned into hits, including his home run.
Derek Jeter - 2012 Season
That was what led to Monday's success. He was thrown four pitches inside that "middle-middle" square
During this six-week run of success, Jeter is 21-for-29 when an at-bat ends with a pitch in that "middle-middle" square.
His 37 hits on the pitches in that square are the most of anyone in the majors in 2012, one more than another shortstop, Elvis Andrus of the Texas Rangers
Jeter has also raised his performance in two-strike situations during this run of success. He's hitting .297 with two strikes since July 3, after netting two more hits in Monday's game.
Lastly, the Jeter trademark of getting hits to the opposite field has been huge for him of late. In this hot streak, he's 28-for-53 when an at-bat ends with a ball hit to right field.
Shortstop Mega-Game Stat of the Night
Jeter is the fourth shortstop aged 38 or older to have a four-hit, multi-extra-base hit game in the Live Ball Era, joining Omar Vizquel (four times), Ozzie Smith (three), and Luke Appling (three).