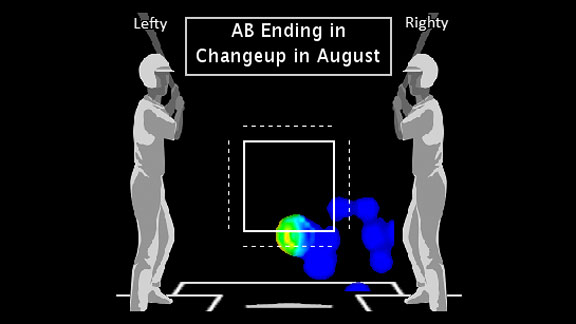 ESPN Stats & Information
Stephen Strasburg has registered outs with his changeup while steering clear of the strike zone in August. Opponents are 1-15 against the pitch in his last 4 starts.Tuesday against the Atlanta Braves, Stephen Strasburg showed why he's one of the best strikeout pitchers in the majors while the Washington Nationals showed that we aren't likely to see much more their third-year phenom in 2012.
Strasburg struck out 10 before being lifted for Drew Storen in the top of the seventh inning, securing his MLB-high third outing this year with at least 10 strikeouts in six or fewer innings.
Pitching on both sides of a 52-minute rain delay in the third inning, Strasburg increased his innings pitched total to 145⅓ this season. The Nationals, who have said they're likely to shut Strasburg down for the season when he gets somewhere in the 160 to 180 innings range, have allowed him to pitch more than six innings just once in his last 11 starts.

StrasburgEven in limited work, Strasburg registered 10 swings-and-misses on fastballs Tuesday, one shy of his season high. His fastball averaged 96.2 mph, his highest rate in more than two months.
Strasburg is 5-0 with a 2.05 ERA in the seven starts this season in which his fastball has averaged at least 96 mph.
The speed of Strasburg's fastball likely was a major factor in the effectiveness of his changeup on Tuesday. He threw only eight changeups against the Braves, but recorded four strikeouts with the pitch.
The Braves missed on all five of their swings against Strasburg's change, none of which were in the strike zone.
Strasburg improved to 4-0 with a 1.50 ERA in his last four starts after losing four of six decisions from the final week of June through the end of the July.
He's likely to make his next start next Tuesday against the Marlins in Miami. Strasburg has allowed no runs in three career road starts vs the Marlins, winning each time. He's the only pitcher to ever have three consecutive scoreless starts against the Marlins on the road.