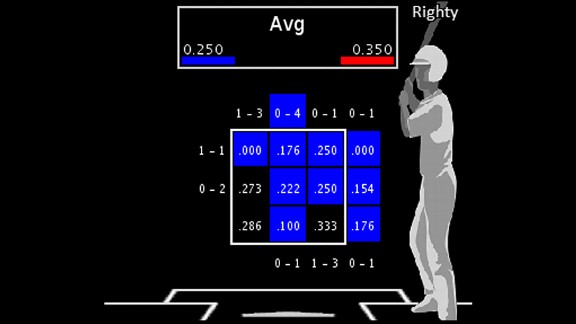 ESPN Stats & Information
Johnny Cueto is allowing a .193 average against his fastball this season vs righties.Don't be surprised if Tuesday features an abundance of low-scoring games, as a wealth of sensational starters are scheduled to take the mound tonight. Twelve pitchers with 12 or more wins will be in action, and Elias notes that the last time five different pitchers with 14+ wins and a sub-3.00 ERA started on the same day was October 2, 1992. A look at a few notables:
Johnny Cueto (16-6, 2.47 ERA)

Johnny Cueto's strong season may continue to improve against the Arizona Diamondbacks. For his career, he's 4-0 with a 1.45 ERA against the club, his lowest ERA and best W-L versus any NL team. He's allowing just a .288 on base percentage against his fastball this season, down from .319 last season.
Jered Weaver (16-3, 2.74 ERA)

Jered Weaver takes on the Boston Red Sox less than a week after beating them at Fenway Park. However, Weaver has lost his last two home starts after winning eight straight home decisions this season. He has never lost three straight home starts. He has allowed 12 earned runs in his last two home starts compared to just six earned runs in his first nine starts at Angel Stadium.
Stephen Strasburg (15-5, 2.85 ERA)

Stephen Strasburg is 4-1 with a 1.56 ERA in seven career starts versus the Miami Marlins, his most wins against any team. What's more, he has won his last three decisions versus Miami and has gone exactly six innings and not allowed a run in each of his past four starts against the squad. Strasburg is up to 145 1/3 innings this season.
Matt Cain (13-5, 2.83 ERA)

A Matt Cain win against the Houston Astros would tie his single-season career high of 14 in 2009. Cain has been especially hot of late, notching a 3-0 record with a 1.61 ERA in his past three starts. The Astros have bad memories of Cain already this season, as his perfect game came at the expense of Houston on June 13th.
Justin Verlander (12-7, 2.50 ERA)

Justin Verlander enters tonight's start against the Kansas City Royals with the lowest opponent batting average in the majors (.206). In addition, Verlander is 14-2 against the Royals in his career. Elias says among all pitchers with at least 10 decisions, only Mark Mulder (9-1) has a higher career winning percentage against the Royals than Verlander.