Eric Hartline/US Presswire
Kris Medlen has been dominant as a starter (0.83 ERA) this season.The Atlanta Braves are clinging to the NL Wild Card lead, and tonight will send Kris Medlen to the mound against the San Diego Padres. Medlen tossed his first career shutout against the Padres on August 16th and most recently beat the majors' best team – the Washington Nationals – in his last outing on August 22nd.
With Ben Sheets on the DL, the Braves' six-man rotation has conveniently been cut to a five-man staff and Medlen is the wild card, having joined the group less than a month ago. Is he the key to the Braves playoff hopes?
Kris Medlen This Season
Based on his success in a starting role, it's hard to make an argument to remove him from the rotation. Dating back to May 29, 2010, every time that Medlen has been listed as the team's starter, the Braves have won.
That is 16 consecutive starts with a "W" in the books, the longest win streak in a player's starts in Braves franchise history, according to the Elias Sports Bureau. It's the longest streak for any player since the St. Louis Cardinals won 17 straight starts made by Chris Carpenter in 2005.
Medlen had Tommy John surgery in 2010 and missed nearly all of 2011, so the Braves put him in the bullpen to start the season in order to limit his innings. He was effective as a reliever (2.48 ERA in 54 1/3 innings), but has been dominant as a starter (0.83 ERA in 32 2/3 innings) this season.
Medlen has made an easy transition to starting this year partly because of his ability to get both righties and lefties out thanks to a much-improved changeup in his role as a starter since his rookie year in 2009.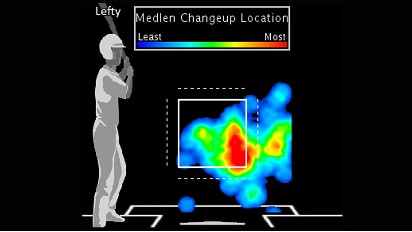 Medlen consistently locates his changeup low and away to lefties.This season as a starter, lefty swingers have just two singles in 19 at-bats (.105) ending in a changeup from Medlen. They have chased more than 60 percent of the changeups Medlen has thrown out of the zone, thanks to his ability to consistently locate the pitch low and away to lefties, as seen in the heat map.
Another key to Medlen's success as a starter this season has been his ability to limit extra-base hits and hard-hit balls. He has allowed just three extra-base hits to the 123 batters he's faced as a starter, and his .265 slugging percentage allowed would easily be the best among qualified starters.
As a starter, less than one of every eight at-bats has ended in a hard-hit ball, according to Inside Edge video review, a rate that would also be the best among qualified starters. And his groundball rate of 55 percent as a starter would rank among the top 10 in the majors if he had enough innings to qualify.