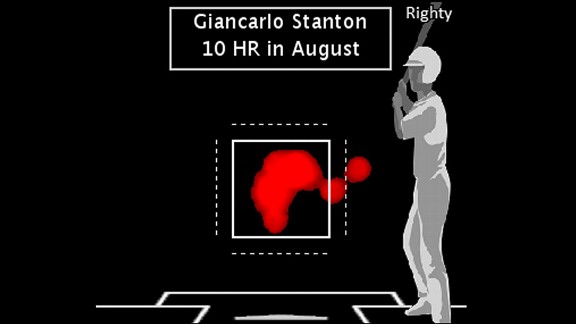 Giancarlo Stanton has been almost impossible to pitch to since returning to the Marlins lineup.
This month's Home Run Tracker monthly awards were dominated by a Miami Marlins player who showed no home-run related issues from missing a month due to injury. Let's take a look at his accolades and a few others.
Player Power Surge of the Month
July Winner: Josh Willingham, Minnesota Twins
August Winner: Giancarlo Stanton, Miami Marlins
Both Stanton and Chase Headley of the San Diego Padres hit 10 home runs this month, but Stanton gets the tiebreaking nod for this award based on his average home run distance (429.4 feet to Headley's 398.0).
It is nearly impossible to compete with Stanton here, as six of his 10 home runs went over 430 feet, including three 450-foot home runs on consecutive days.
No Doubter of the Month
Longest Home Runs
Since 2006
July Winner: Cameron Maybin,
San Diego Padres (485 feet)
August Winner: Giancarlo Stanton, Miami Marlins (494 feet)
Stanton hit not just the longest homer of the month, but the longest home run of the season on Aug. 17, a 494-foot blast off Josh Roenicke.
Stanton, who has seven home runs of 450 feet or more this year, hit the fifth-longest home run since the beginning of ESPN HR Tracker in 2006.
Masher of the Month
July Winner: Miguel Cabrera, Detroit Tigers
August Winner: Giancarlo Stanton, Miami Marlins.
Stanton racks up his third award of the month, averaging 429.4 feet per home run. Stanton hit three home runs of at least 450 feet on consecutive days in August and three others that went over 430 feet.
Next-best on the long-distance list: Justin Ruggiano (averaged 426 feet on his five home runs) and Pedro Alvarez (425 feet on his five homers)
Fast Ball of the Month
July Winner: Garrett Jones, Pittsburgh Pirates (116.6 mph)
August Winner: Adam Dunn, Chicago White Sox (119.1 mph)
Dunn hit a 437-foot home run off Brad Lincoln on Aug. 15 that had a speed off bat of 119.1 miles-per-hour, the fastest homer in the majors all month.
Stanton finished second in the month with a 465 foot, 117.0 mph homer three days later, but the May and June winner could not quite pull off the fast-ball hat trick.
"Mother Nature's HR of the Month":
July Winner: Michael Cuddyer, Colorado Rockies
August Winner: Chase Utley, Philadelphia Phillies
Utley hit a 391-foot home run off Trevor Cahill on August 5 that was aided an extra 37 feet by a 15 mph wind at Citizens Bank Park.
Under standard conditions (70 degrees, no wind), it would have been a routine out in all 30 ballparks.
Team Power Surge of the Month
July Winner: New York Yankees
August Winner: Chicago White Sox
The Chicago White Sox hit 45 August home runs totaling 17,967 feet (3.40 miles worth of homers). Dunn hit four 430+-foot home runs, including a 460-footer on August 13, helping the White Sox's cause.