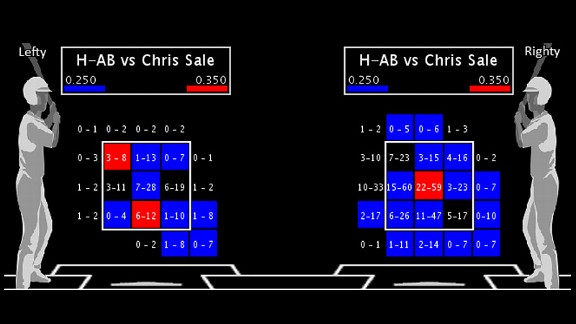 Chris Sale has been tough to hit wherever he's located his pitches in 2012.
The "Sunday Night Baseball" game between the Detroit Tigers and Chicago White Sox isn't just a battle for American League Central supremacy. It's a matchup of two of the top pitchers in baseball, Justin Verlander and Chris Sale.
Let's take a closer look inside the skill sets of each of these standouts to prepare you for Sunday night's game.
What Chris Sale does best
Sale has one of the best wipeout sliders in the major leagues. He's struck out 91 hitters with the pitch. Only two AL pitchers have more whiffs with the slider -- CC Sabathia and Francisco Liriano.
That hasn't helped Sale against the Tigers, though. He is 0-2 with a 6.00 ERA versus Detroit this season, compared to 15-3 with a 2.54 ERA against all other teams.
Sale allowed three hits with his slider the last time he faced the Tigers, including a two-run double to Austin Jackson and a three-run homer to Brennan Boesch.
Chris Sale, This Season
The Tigers won those games by getting three extra-base hits with runners in scoring position -- two doubles and a home run. In Sale's other 22 starts, he's allowed five extra-base hits with runners in scoring position.
In fact, Sale has the lowest opponents' batting average with runners in scoring position (.175) among AL starters.
What2Watch4 with Sale
Sale has given up a higher rate of hits after the first 50 pitches of the game. Opponents are hitting .195 against him within his first 50 pitches of the game, .255 thereafter.
Sale Stat of the Day
Oh, to be young, tall and a lefty. Only four lefties 6-foot-6 or taller have won 15 or more games in a season at age 23 or younger: CC Sabathia, John Candelaria (twice), ESPN "Baseball Tonight" analyst Mark Mulder and Chris Sale.
What Justin Verlander does best
Verlander uses his home ballpark, Comerica Park, to his advantage. He's 38-10 with a 2.34 ERA there since 2009.
He has four pitches with which he can get a hitter out and has at least 50 strikeouts with each since the start of last season.
Verlander's curveball has been the premier complement to his fastball. He leads AL pitchers with 59 strikeouts with that pitch this season.
Unlike Sale, Verlander can get better as the game gets longer. His average fastball speed in the seventh inning or later this season is 95.6 mph, nearly a mile per hour faster than the next-best starter in the majors (David Price, 94.7).
It is 2 mph faster than what Verlander averages in the first six innings.
Verlander needs two strikeouts for his fourth 200-strikeout season. That will be the second most in Tigers history, trailing only Mickey Lolich's seven.
What2Watch4 with Verlander
Prior to 2009, Verlander was 2-9 with a 5.90 ERA in 14 starts against the White Sox. Since then, he's 11-1 with a 2.32 ERA in 12 starts against them.
Most Wins vs Single Opponent
Since 2009
He enters the day tied for the most wins by a pitcher against an opponent since 2009. Price can surpass him if he beats the Blue Jays on Sunday afternoon.
Verlander has great numbers against some of the key White Sox in that span. Paul Konerko is 4-for-25 against him. Adam Dunn is 3-for-20 with 10 strikeouts and no walks.
Even someone who wasn't on the White Sox for much of this time -- Kevin Youkilis -- struggled. He's 3-for-19 with seven whiffs and no walks against Verlander in the past four seasons, including 1-for-9 in 2012.
Verlander stat of the day
Verlander has thrown at least 100 pitches in 79 straight appearances. The next-best streak since 2000 is 32 games, by Felix Hernandez in 2009 and 2010.