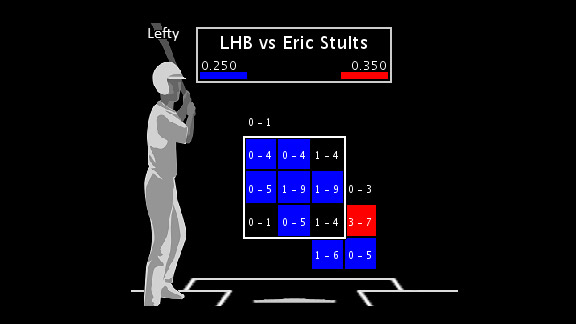 Eric Stults has been a very difficult matchup for left-handed hitters this year.
In the matchup of left-handers in the second game of our Tuesday Night Baseball doubleheader (10 pm ET, ESPN), the known quantity is Los Angeles Dodgers starter Clayton Kershaw.
But Kershaw's former teammate, Eric Stults, has done his part recently to make this a formidable matchup against the San Diego Padres. Let's take a closer look at what's made him worth watching of late.
Recent success
Stults has been terrific as a starter this season since returning to the rotation at the beginning of August. After going 1-2 with a 3.26 ERA in his first five starts, he's 4-0 with a 1.69 ERA in his last five. It hasn't just been about home-field advantage for Stults at PETCO Park. He's allowed one run in 14 2/3 innings in his last two road starts.
Eric Stults This Season
This will be the first time he's facing his former team, the Dodgers, whom he pitched for from 2006 to 2009.
One of the keys to his success this season has been that he's arguably the best lefty in terms of shutting down an opponents left-handed hitters. He'll likely face at least two in Adrian Gonzalez and Andre Ethier.
In this recent hot stretch, left-handed hitters are 3-for-38 (all three hits are singles) against him with eight strikeouts and no walks.
Why else is he winning?
Two other things have gone his way and his long-term performance will determine whether this is good fortune or skill-based. Opponents are 1-for-their-last-17 against him with runners in scoring position and are hitting just .114 against him with runners in scoring position as a starter this season.
In his last five starts, opponents are also hitting .175 with a puny .222 on-base percentage after he falls behind in the count 1-0. They hit .278 with a .409 on-base percentage in those situations in his first five starts.
Stults issues versus right-handers stem from them being able to hit his changeup. Opponents are hitting .315 with a .760 OPS in 73 at-bats ending in a changeup. Of the balls they've hit against him, a whopping 26 percent have been line drives.
Expect the Dodgers to make a decent amount of contact tonight. In 34 career starts, Stults has struck out more than 5 batters just twice.
Stults is averaging just 4.5 strikeouts per 9 innings this season, which would be the fourth-lowest among MLB starters if he had pitched enough innings to qualify for the ERA title.
The challenge of the opposing starter
Stults doesn't quite have the arsenal of his opposition on the mound.
He'll be challenged to beat Kershaw, who has a 2.35 career ERA at Dodgers Stadium, the best by an active pitcher in his home ballpark.
Clayton Kershaw MLB Career
Kershaw is 4-0 with a 2.01 ERA in six starts against the Padres since the start of last season.
The biggest challenge for Padres hitters? Hitting Kershaw's curveball.
Kershaw has upped his rate of throwing curveballs from about once every 16 pitches in 2011 to once every nine this season. The pitch has netted him 86 outs and yielded only nine hits, with only one of those hits going for extra bases.
Last season, Kershaw won the NL's version of the pitching Triple Crown. This season, he's on his way to winning the curveball Triple Crown.
Kershaw's curve ranks best in the majors in terms of opponents' batting average (.084), on-base percentage (.084—no walks with it) and slugging percentage (.095).