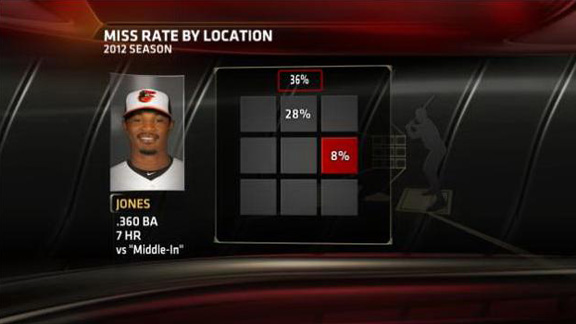 ESPN Stats & Information
The difference between where David Robertson wanted to throw his pitch to Adam Jones (top of image) and where the pitch ended up (right side of image).
One often hears about a pitcher "missing his spot." On Thursday, David Robertson paid the price for that.
Highest Swing Pct in AL
Pitches High in Zone or Above
Adam Jones' go-ahead home run in the bottom of the eighth put the Baltimore Orioles ahead for good in a 10-6 win over the New York Yankees.
On a 1-2 count, the strategy was clear. Notoriously a free swinger up in the zone, the Yankees were betting that Jones would chase a high fastball. Russell Martin set a high target, about as high as he could without standing up.
Jones swings at 55 percent of pitches in the upper-third of the zone or higher. In the American League, only Derek Jeter swings at a higher percentage of high pitches. Of those swings, Jones misses 26 percent of the time.
In other words, the logic was sound for Robertson to finish Jones off with a high pitch. It was the execution that failed the Yankees. Robertson missed his spot.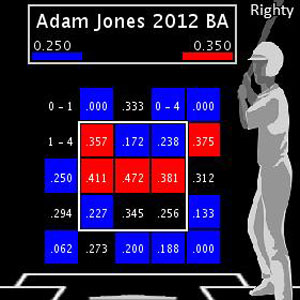 ESPN Stats & Information
Adam Jones struggles with pitches up in the zone, but feasts on balls middle-in.
Martin's target was above the zone, in an area where Jones misses on 36 percent of his swings.
However, the pitch wound up middle-in, a zone where he misses just 8 percent of the time.
In fact, when an at-bat ends with a middle-third/inner-third pitch, Jones is hitting .360 with 7 HR in 75 AB. His 7 HR is tied for 4th-most in MLB. The .360 batting average is 84 points better than MLB average.
Jones wound up with his MLB-leading 18th game-tying or go-ahead HR this season. All stemming from a missed spot.