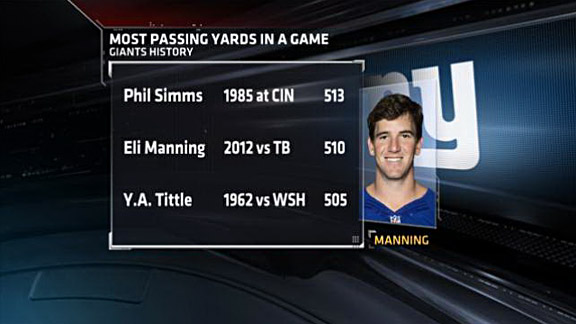 Once again, New York Giants quarterback Eli Manning brought his best to the end of an improbable victory.
Let's run through our best notes, stats and trends related to his performance in the Giants late comeback win over the Tampa Bay Buccaneers.
An all-time performance
Manning's 510 yards passing rank as the second-most in a game in Giants history, and tied with Drew Brees for the eighth-most in any game all-time. The only Giants quarterback with more passing yards in a game was Phil Simms in 1985.
Fourth-Quarter Magic
Manning's 243 passing yards in the fourth quarter are the second-most by any quarterback IN A WIN over the last 10 seasons. Michael Vick had 245 yards in a win two seasons ago.
Eli Manning
Sunday vs Buccaneers
Manning now has 18 passing touchdowns and 1,938 pass yards in the 4th quarter since the start of last season, both of which are the most in the NFL in that span (led NFL in fourth-quarter yards and touchdowns last year).
This is the seventh game-winning drive in the fourth quarter or overtime for Manning since the start of 2011 season, the most in the NFL (he led the NFL with six last year).
The receiving corps comes through
The Elias Sports Bureau tells us that this is the first time in Giants franchise history that they've had two players (Hakeem Nicks and Victor Cruz) with 150+ receiving yards in the same game.
The last time any team did that was the Arizona Cardinals (Larry Fitzgerald and Anquan Boldin) in 2008.
Cruz had a career-high 11 receptions and a career-high 179 receiving yards. He's the first Giants player to hit both of those benchmarks in 50 years. The last was Del Shofner in 1962.
Cruz had 17 targets, matching the most by any Giants receiver in a game since 2008. Nicks had 17 in Week 5 of 2010.
Looking long
Manning was 6-for-13 for 250 yards, three touchdowns, and an interception on throws of at least 15 yards downfield. He was 2-for-6 for 65 yards in last week's loss to the Dallas Cowboys.
That included going 4-for-6 for 187 yards on those throws in the fourth quarter.
Manning also shredded the Buccaneers blitz. He was 9-for-14 for 228 yards and two touchdowns when the Buccaneers sent a defensive back on the pass rush. Of those 228 yards, 164 came in the fourth quarter.
Nicks was the primary outlet on the blitz, netting seven catches on for 143 yards on the 11 times when Manning targeted him on blitzes.
But if one thing needed improvement …
Manning was 10-for-20 for 61 yards with two interceptions on throws that traveled five yards or fewer downfield. Since the start of last season, Manning had completed 71 percent of his passes on throws of that length.