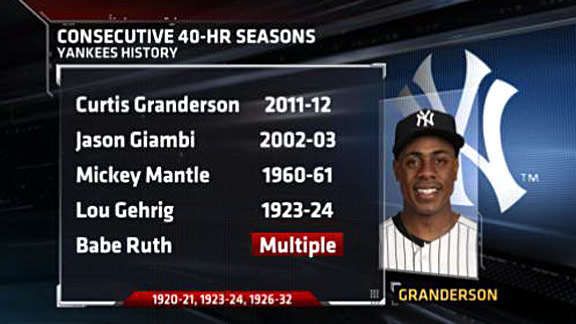 Curtis Granderson has had an up-and-down season, but now it's one that puts him in an elite group.
In the New York Yankees win over the Minnesota Twins on Monday, Granderson became the sixth player in Yankees history with multiple 40-homer seasons, the fifth with consecutive seasons of 40 or more home runs, as noted in the graphic above.
How has Granderson gotten to 40 home runs with the Yankees this time around?
Most HR vs Outer-Third Pitches
2012 Season
Playing in Yankee Stadium has benefited him considerably. But Granderson does have 17 home runs on the road this season, tied for ninth-most in the majors.
Granderson has a skill that separates him from a lot of other major-league hitters in that he's able to turn on a pitch that's on the outside part of the plate and hit it over the fence.
That was something that came into play on Monday, with his home run against Minnesota Twins starter Liam Hendriks.
His 16 home runs on pitches that were on the outer-third of the plate (or off the outside corner) are the second-most in the majors this season, trailing only Adam Dunn's 18.
Dating back to last season, Granderson has 26 home runs on such pitches, by far the most in the major leagues. Jose Bautista ranks second with 28.
Granderson wasn't the only one looking away
This was a night of big home runs from big home-run hitters in playoff contention, and each of those players shared the distinction of hitting one on an outside pitch.
For Dunn, it was one that provided his first home run of the night, and gave him six seasons with at least 40 home runs (tied for second-most among active players).
It was the 26th time Dunn hit a go-ahead home run in the eighth inning or later since his debut in 2001. That's more than anyone else in the majors.
Texas Rangers slugger Josh Hamilton took the home run lead from Miguel Cabrera with his 43rd home run of the season, which also came on one of those outer-third offerings.
Hamilton didn't hit a home run on an outer-third pitch until his four home-run game on May 8. He's added a few more since then.
In fact, going back to that date, the leaders in outer-third homers are Dunn (16), Hamilton (14) and Granderson (12).
Right behind them is Toronto Blue Jays power hitter Edwin Encarnacion. He too homered on an outside pitch on Monday night.