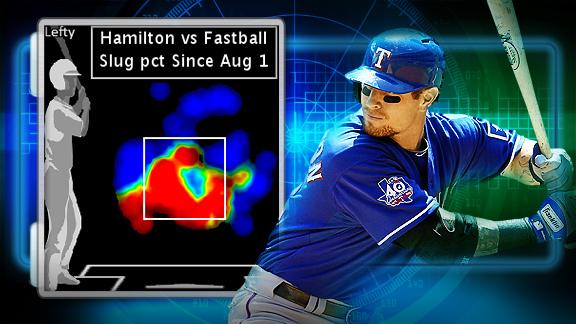 (This is the first of a series of posts that will examine how opponents might consider pitching to five of the biggest hitters in the postseason. This look at Josh Hamilton will be followed over the next 48 hours by Buster Posey, Joey Votto, Miguel Cabrera and Bryce Harper.)
For Josh Hamilton, it's been a tale of three seasons.
After a scorching hot April and May, when he hit .368/.420/.764 with 21 HR in 47 games, Hamilton went into a deep freeze. In June and July he hit just .202 with a .687 OPS and 56 strikeouts. He has rebounded since the calendar turned to August, posting a .280/.351/.560 line in his last 54 games.
Hamilton's most recent surge in the last two months has been all about his ability to crush the hard stuff.
Since Aug. 1, Hamilton is slugging nearly .700 and reaching base better than 40 percent of the time in plate appearances ending in fastballs (including sinkers, splitters, cutters).
In June and July, he hit .214 and slugged .371 against those same pitches.
Josh Hamilton vs Fastballs Since August 1
If you get stuck in a fastball count and need to throw the heater against Hamilton, your best bet is to give him a pitch above the letters. If he doesn't whiff on the pitch, there is a good chance you can get him out, as seen in the chart to the right.
Hamilton has also been vulnerable to breaking pitches over the past few months.
Twelve of Hamilton's 22 home runs since June 1 have come against sliders and curves. However, he is missing nearly 50 percent of the time he swings at those pitches, and is chasing more than half that are thrown out of the zone.
Since August, Hamilton has returned to being a pull-happy hitter with half of his extra-base hits landing in right field. He is slugging over 1.100 on pulled pitches since Aug. 1, more than double the rate he posted in June and July.
An infield shift might help to get Hamilton out, as more than half of his pulled balls in play this season have been on the ground.
Hamilton hit 149 ground balls this season, 110 of which (74 percent) were to over the second base bag, or, to the right side of the field.
However, Hamilton has gotten a hit on 7-of-25 grounders (.280) to the right side of the infield since Aug. 1, a rate that is well above the major-league average for a lefty (.167 BA).
The shift won't help defend the other half of his pulled balls that are either flyballs or line drives. Hamilton's 1.822 slugging percentage this season on those balls hit in the air to right field is the third highest in the majors.