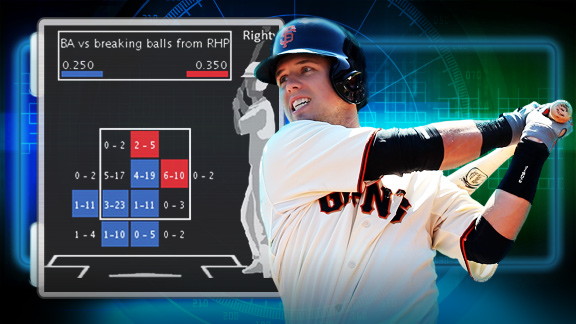 In his first full season, Buster Posey has developed into one of the best hitters in baseball and a strong NL MVP candidate thanks to an otherworldly .385/.456/.646 (batting average, on-base percentage, slugging percentage) in the second half.
How does one pitch to such a hitter? What should pitchers expect with two strikes? And does Posey's batted ball profile suggest he's worth employing a shift against?
Let's take a look.
No holes against lefties
Posey is a big reason the San Francisco Giants are a major-league-best 40-19 against left-handed starters this season. He's hitting an absurd .433/.470/.793 against lefties this season, including .489/.526/.966 in the second half.
As you would expect, a hitter with that kind of line has few weaknesses. Posey is hitting .415 against pitches on the inner half from lefties; he's hitting .451 on the outer half. He's batting .449 on pitches above the belt and .426 on pitches below the belt. If you leave a pitch middle-middle, he's hitting .632 (12-19) and has swung and missed just three times all season.
Vulnerable against breaking balls from righties
Compared with lefties, right-handers have made Posey look ordinary this season. He's hitting .292/.382/.440 against righties, including a .331/.423/.479 line in the second half.
Posey has crushed fastballs from righties on the inner half (major-league-best .413 BA among right-handed hitters) but has been vulnerable at times to stuff away, especially breaking balls. He's hitting just .190 in at-bats ending with a breaking ball, which ranks 67th out of 75 qualified righties. Although he's having a stellar second half, Posey hasn't carried that same level of improvement against breaking balls. He hit .179 against breaking balls in the first half and .203 in the second.
Against the Cincinnati Reds in the NLDS, he's likely to see a heavy dose of breaking balls. In seven games against Cincinnati this season, Posey saw 44 percent breaking balls, his second-highest percentage against any opponent. The only team higher? The Washington Nationals, who could await in the NLCS. Posey was a combined 3-for-21 (.143) against breaking balls from those opponents this year.
Making pitchers work
If there's one thing Posey does as well as, if not better than, anyone, it's making pitchers work. He's averaging 4.25 pitches per plate appearance this season, which ranks second in the NL. On a Giants team filled with aggressive hitters, Posey is the one who extends at-bats, runs up pitch counts and frustrates pitchers.
He's fouling off 44 percent of his swings when he's behind in the count, which leads the NL. He has a .324 on-base percentage after he falls behind 0-2 this season, which ranks second in the NL. He has had six plate appearances of 10 or more pitches this season, with two homers and three walks.
Is there any defensive positioning to consider with Posey?
Although Posey has the ability to hit the ball to all fields, he's typically a dead-pull hitter when it comes to balls on the infield. Eighty-two percent of his ground balls and short line drives this season have been to the left side of second base. Does it make sense then for the defense to consider using an infield shift against him? Maybe.
Baseball Info Solutions (BIS), which tracks this type of defensive data for major league teams, estimates that right-handed hitters are candidates for a shift when they hit the 85 percent threshold. Posey, at 82 percent, is close enough that an argument can be made. So far, however, nobody has employed a shift against Posey this season, according to BIS.