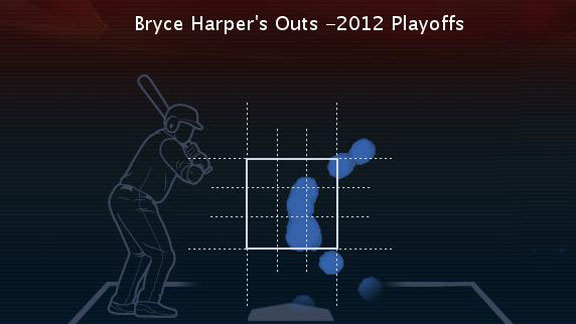 ESPN Stats & Information
After hitting over .400 vs. the Cardinals in the regular season, Bryce Harper has struggled in the NLDS
During the regular season Bryce Harper torched Cardinals pitching, hitting .429 in 28 at-bats including going 4-6 on pitches low-and-away.
In seven games he struck out a total of four times. That success hasn't translated so far in the NLDS as Harper struck out four times in Game 2 alone and is 1-10 with six strikeouts in the series.
Postseason Adjustment
The Cardinals have flipped the script on how they have pitched Harper.
During the regular season St. Louis pitchers threw hard stuff inside and up in the zone to the Nationals rookie and went with offspeed pitches away in the zone.
Harper was content to just put the offspeed stuff in play with five singles and two doubles the opposite way. Against the hard stuff he slugged .923 in 13 at-bats.
In the NLDS the Cardinals have gone middle-away with fastballs against Harper (1-6, two strikeouts) and have kept offspeed pitches down in the zone (0-4, four strikeouts).
Offspeed pitches out of the strikezone have really troubled Harper as he has chased nearly half of them this series (47.4 percent).
Chris Carpenter
This Season
Can Carpenter Continue This Strategy?
Harper has never faced Game 3 starter Chris Carpenter as the Cardinals' righty has made just three starts since coming off of the disabled list.
If Harper does break out of his slump in Game 3 it shouldn't be a surprise as Carpenter has struggled to get lefties out. Carpenter's 1.005 opponent OPS against left-handed hitters is nearly twice that of his .521 mark against righties.
Is Harper Fatiguing?
2011 was Bryce Harper's first season in professional baseball as he played a total of 109 games between single-A and double-A. This season Harper has played a total of 162 games between triple-A and the big leagues.
Although he's played in nearly 50 percent more games this season, Harper played his best baseball down the stretch, with a slash line of .330/.400/.643 from September 1 to the end of the regular season.