Detroit Tigers fans still have a bitter taste in their mouths after losing a one-game playoff to the Minnesota Twins for the AL Central title this past fall. The silver lining from that game just might come in the form of that game's starting pitcher, who struck out eight batters in 5 2/3 innings nearly three months shy of his 21st birthday.
Rick Porcello has gone from first-round draft pick of the Tigers in 2007 to No. 2 starter to begin the 2010 season. That makes him One2 Watch4. Porcello went 14-9 in his rookie season in 2009, finishing with an ERA of 3.96. Five of his 14 wins came in May, when he went undefeated and allowed just six earned runs in 30 innings of work (1.50 ERA). In the live-ball era (since 1920), only two Tigers first-year pitchers have won more games than Porcello's 14.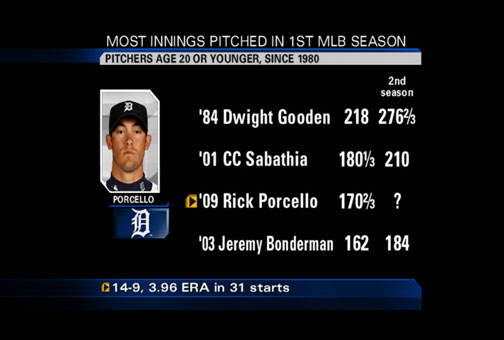 Both of those, Mark Fidrych and Dave Rozema, saw significant declines in wins during their sophomore seasons. Tigers fans are hoping that Porcello can reverse this trend with a solid 2010 campaign.
There is precedent for Porcello increasing his workload in his second season. His 170 2/3 innings pitched were the third-most since 1980 for a rookie pitcher 20 years old or younger. The only two 20-year-old pitchers in recent history to pitch more innings than Porcello in their first MLB season were Dwight Gooden and CC Sabathia. And look at how their workload increased in the next season: Gooden pitched 58 2/3 more innings, and Sabathia threw for nearly 30 more innings.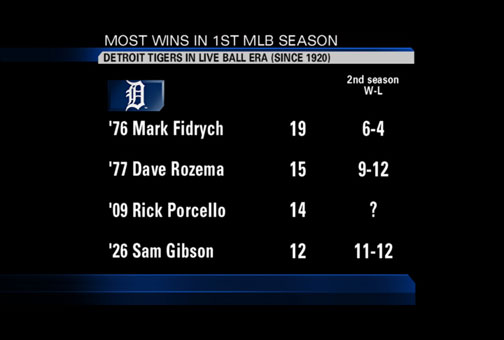 Much has been made in recent years about making sure that young pitchers don't burn out too early. Their innings are limited, and their pitch counts are monitored closely. Porcello was no exception as a rookie, as he threw more than 100 pitches in just four of his 31 starts (all four after Aug. 28). Even so, according to baseball-reference.com, the 2,726 pitches thrown by Porcello are the second-most in the past 10 seasons by a rookie 20 years old or younger. (CC Sabathia threw 3,132 in 2001.)
Porcello's rookie season in 2009 reminded Tigers fans of another starter currently in the team's rotation. Even though their pitching styles are much different, the end results for Porcello and Justin Verlander in their first MLB seasons were similar. Porcello relies heavily on his sinker, while Verlander prefers to bring the heat with his four-seam fastball. A side note: Just three seasons later in 2009, Verlander led the American League with 10.1 strikeouts per nine innings of work.
Verlander went 18-6 in his sophomore season in 2007, making his first All-Star appearance and finishing fifth in the AL Cy Young Award voting. If Porcello can put up numbers similar to those in his second season, the Tigers will be well on their way to finishing the 2010 season without a bitter taste in their mouths.