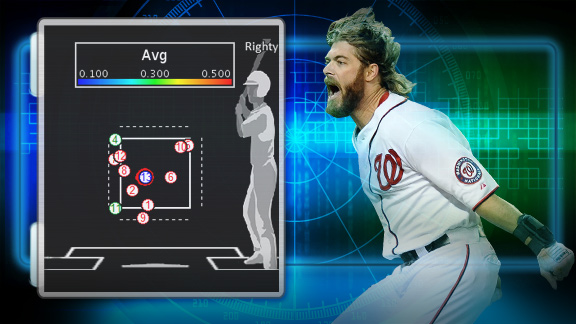 ESPN.com Illustration
Jayson Werth's walk-off home run against Lance Lynn came on the 13th pitch of the at-bat.
Over the past five years, no one has seen more pitches per plate appearance than Jayson Werth.
That patience paid off on Thursday. Werth needed 13 pitches to etch his name in Nationals lore.
Werth's walk-off solo home run gave the Washington Nationals a 2-1 win, forcing a Game 5 against the St. Louis Cardinals.
It was the first postseason walk-off home run ever hit in Washington, DC.
He's just the third player to hit a postseason walk-off home run against the Cardinals, joining Jeff Kent (2004 NLCS) and Mickey Mantle (1964 World Series).
Postseason Walk-Off HR
By Leadoff Hitter
Werth is also just the fifth leadoff hitter with a postseason walk-off home run, and the first since Scott Podsednik in the 2005 World Series.
Facing the first batter of the inning, Lance Lynn got ahead to an 0-2 count. Werth hadn't hit a home run after falling behind 0-2 this season.
But 11 pitches later, Lynn threw a 96 mile-per-hour fastball right down the middle.
In his career, Lynn had thrown 371 pitches of at least 95 mph. This was the first that wound up in a home run.
Most Career Postseason HR
NL History
The 13 pitches matched the longest plate appearance of Werth's career, and he once hit a home run on the 12th pitch against Oliver Perez. The last known walk-off homer on the 13th pitch or later was by Garret Anderson on September 15, 1997.
Werth now has 14 career postseason home runs, one shy of tying Babe Ruth for eighth all-time. Only Albert Pujols (18) has more postseason home runs in the National League.
It is the 12th walk-off home run hit with a team facing postseason elimination. Of the previous 11, all but Carlton Fisk's 1975 Red Sox went on to win the series.