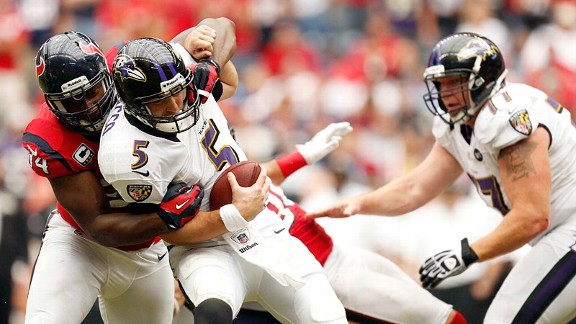 Thomas Campbell/US Presswire
Joe Flacco's first-half play against Houston resulted in him posting the lowest QBR since 2008.The Baltimore Ravens were manhandled 43-13 on Sunday by the Houston Texans in a matchup of the previously only AFC teams with winning records. In a 30-point loss it's usually difficult to peg any one player as the main culprit for the defeat, but in this game we can make an argument that the quarterback should get a majority of the blame.
In a matter of weeks, Joe Flacco went from MVP buzz to posting a QBR against the Texans of 0.3, the worst since 2008 (minimum 30 action plays). His NFL passer rating, however, was a low, but not uncommon, 45.4.
So why did QBR rate his performance so much lower?
There are a few major drivers. First, keep in mind the game quickly became a blowout, meaning Flacco's QBR was heavily based on what he did early. Here is a snapshot of Flacco's accomplishments in the first quarter plus the first play of the second quarter:
• 3-of-8 for 25 yards. Only one of the three completions went for a first down
• One sack that caused Flacco to fumble, a fumble that his teammate recovered
• One sack in the end zone that resulted in a safety
• One interception that was returned for a touchdown
According to the Elias Sports Bureau, Flacco is the only QB in the QBR-era (since 2008) who was tackled for a safety, credited with a fumble and threw a pick six in the same game. And he did all of that in the first 15:10 of the game.
After all of this, Baltimore's chance of winning was down to 13 percent. Flacco added another interception before halftime as the Ravens entered the locker room down 29-3 -- giving them a 99 percent chance to lose.
Lowest QB Points Above Average
Single Game Since 2008
Flacco's -22.2 QB PAA means that an average QB (QBR of 50) would have contributed 22 more net points to his team with the same number of action plays.
Flacco wasn't terrible in the second half, but nothing to write home about, either (14-23, 95 yards, TD, two sacks). Remember, these stats had no relevance on the outcome of the game, which essentially already was decided in the first half.
His overall passing numbers weren't great, hence the below average passer rating, but it is for these reasons -- sacks, a fumble, a safety, a pick-six -- all before the game was completely out of hand that Flacco's QBR was so low.
Not only was Flacco bad on an efficiency level, but he maintained the subpar performance over an incredible 51 action plays. Taking into account both his QBR and the number of plays he was involved in, Flacco had by far the worst single-game QB Points Above Average (PAA) in the QBR era that dates to 2008. Flacco's -22.2 QB PAA means that an average quarterback (QBR of 50) would have contributed 22 more net points to his team with the same number of action plays.
It is difficult for any team to keep a game close with such poor quarterback play when the QB is so heavily involved in the game. Baltimore fans realized that harsh truth on Sunday.