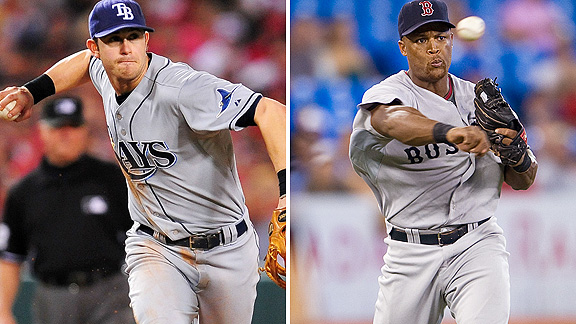 US Presswire/Icon SMI
Evan Longoria and Adrian Beltre have won the last three American League Gold Glove awards, but the battle for defensive supremacy in 2010 figures to be a close call.
Evan Longoria might not quite fit into the argument for Most Valuable Player this season, but you can make the case, at least for the Tampa Bay Rays, that he made their most valuable play.
The 3-2 ninth-inning Rays lead against the Tigers on July 27 looked tenuous, when Miguel Cabrera hit a slow-moving ground ball to third base, with the bases loaded and one out in the ninth.
Rather than go for the force at the plate, Longoria gambled and went for the double play. His quick release got the runner out at second, and the subsequent fine relay by Reid Brignac nipped Cabrera by a step. That capped a one-run win, part of a 10-1 Rays stretch that knotted the AL East. With the division race as tight as it is, plays like that can make all the difference between first place and second place.
They also could make the difference in the Web Gem race, where Longoria sits third in the standings, trailing only Cincinnati Reds second baseman Brandon Phillips and Colorado Rockies shortstop Troy Tulowitzki.
A third baseman (Washington Nationals star Ryan Zimmerman) won the award last season and it's certainly possible for the hot corner to have this year's winner too.
But while Longoria may rate best among making the best plays, is he the best defensive third baseman playing on Sunday Night Baseball?
Most "Good Fielding Plays"
Third Basemen in 2010
Longoria unseated Boston Red Sox third baseman Adrian Beltre as the AL's Gold Glove winner in 2009, but remember that Beltre missed 38 games last season and that may have impacted the vote.
This year, the two go head-to-head, fully healthy, and it's worth a closer look as to who's better. We asked a former third baseman, Baseball Tonight analyst Aaron Boone, and he raved equally about both.
"More than anyone else in baseball, Beltre makes really strong throws from really odd positions on the field," Boone said. "He has all of the prototypical things you'd want in a third baseman: a big arm, great athleticism and great hands.
"Longoria wins games with his defense. He's also prototypical – very athletic and very rangy. From what I've seen of him, I've been very impressed"
The eye test says it's close and some of the numbers do too.
For that, we have some defensive metrics we can examine, provided to us by the folks at Baseball Info Solutions. But that doesn't necessarily help break any sort of deadlock – they're very close in the Runs Saved stat (just as they are in "Ultimate Zone Rating" listed on Fangraphs.com) and dead-even in Plus-Minus, which tells you how many more plays a fielder made than the average fielder would have, given the same opportunities, than converting that to "bases saved" (to account for some fielded balls being likely extra-base hits).
What separates Longoria both from Beltre (and also from Beltre's replacement in Seattle, Jose Lopez, who ranks high via those metrics) is another component of defense tracked by BIS.
That company has a group of "video scouts," trained observers who track "scouting data," compiling performance in both Good Fielding Plays (GFPs) and Defensive Misplays (DMs).
A GFP is essentially what we'd think of in Baseball Tonight terms as a "Web Gem Nominee." It's one in which a fielder turns a would-be hit into an out, turns a double play quickly (the video scouts are armed with stopwatches) or makes some other sort of play of a positive nature, even something such as keeping the ball on the infield to prevent a single from becoming a double.
A DM is what you'd think of as "Not Top 10"-worthy from SportsCenter. It encompasses not just errors, but situations in which an out could have been recorded but wasn't – perhaps a failure to turn a double play and instead settle for one out, or a slip that resulted in a ball not being fielded.
These numbers are tracked all season and at the end of the year, you get a pretty good picture regarding each player's skill sets. This is where Longoria's play is difference-making.
Longoria ranks second in the majors in Good Fielding Plays, trailing only Mets third baseman David Wright. Beltre rates a notch lower. Beltre's rating is hurt by his number of Defensive Misplays -- two dozen-- nine more than Longoria.
That gives Longoria a significant edge is in what Baseball Info Solutions calls his "Net" rating.
Highest Net Rating
Third Basemen in 2010
"Net Rating" is simply all the Good Fielding Plays minus all the Misplays and Errors. Longoria rates best in baseball in terms of his "Net Rating." Beltre isn't even in the top 20.
Where does Longoria excel? He rates by far the best third baseman at quickly starting double plays (the skill we referenced to begin this piece, although interestingly, that play didn't meet the tough BIS standards). Longoria has eight that rated better, which happens to be the most of any infielder in baseball. No other third baseman in baseball has more than four. Beltre has none.
He also rates tied for the top spot in what BIS terms "Difficult Foul Popup Plays," with five, the same total as Philadelphia Phillies third baseman, Placido Polanco, two more than Beltre.
Longoria rates among the leaders in the most basic of metrics that these video scouts tracks-- what we'll term "base hit robberies" (BIS calls them "Ground Ball" or "Line Drive GFPs), his total six better than Beltre's.
Both Longoria and Beltre have been extremely significant parts of their teams offensive successes in this 2010 season. But when you're watching "Sunday Night Baseball," keep an eye on their defensive prowess as well. It may ultimately make the difference in the game, and perhaps even the pennant race.