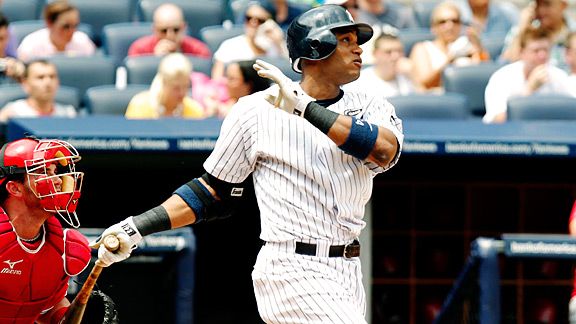 William Perlman/US Presswire
Robinson Cano's success in September figures to be an integral part of how the Yankees fare down the stretch.
At least for today in Yankeeland, Robinson Cano > Babe Ruth.
We say that based off one stat, a rather simplistic and some would say antiquated one, having to do with performance in the final month of the season.
According to the Elias Sports Bureau, Cano's .346 batting average in September/October rates the best in Yankees history among those with at least 300 plate appearances.
Highest Career BA
Sept./Oct., career began since 1930
How good is .346? Good enough to be the second-best September/October batting average of any player who debuted since 1930. The only player better: Ted Williams, at .361.
Where does Ruth come into the mix?
Ruth's Yankees career began in 1920, and in his time with the Bronx Bombers, he hit .340 in September/October, six points worse than Cano.
Ruth's September/October numbers were particularly dominant in his first eight seasons with the team, which we now know after recent efforts on Retrosheet.org resulted in his stats being made publicly available.
From 1920 to 1927, his batting average in that period was .355, with 75 home runs and 212 runs batted in through 221 September/October games. Translate that to seasonal stats, and you're looking at a Triple Crown line of .355/55/155, stats that would make even today's premier September/October player, Ryan Howard blush.
Robinson Cano
career totals
Robinson Cano is a player who raises his game come the end of the season.
Yes, we know Cano has played only six major league seasons (Ruth played 15 as a Yankee) and is still going, so his numbers could still change dramatically (we won't get into the worthiness of batting average here). But he's set a nice precedent with his performance.
Four times in five years, Cano has hit .333 or better in the regular season's final month, with an OPS better than 1.000 in each of his first two years.
Sabermetrically speaking, Fangraphs.com has tracked that he's twice had a clutch rating (meaning his performance rose in "high-leverage" situations) that ranked in the top five in the American League in September/October (and three times was either best or second best on the Yankees).
Ruth's numbers on an annual basis rank as the best single-season September/Octobers in Yankees history. Some other candidates:
• Alex Rodriguez in 2007 : .362 batting average, 10 home runs and 31 runs batted in; a month that helped A-Rod shed his reputation for not hitting in the clutch
• Shane Spencer's staggering 14-game cameo in 1998: .421 batting average with eight home runs and 21 RBIs in 14 games
And the last three Yankees to hit .400 or better in September/October, with a minimum of 75 plate appearances: Don Mattingly (.422, 1986), Mickey Mantle (.409, 1962), and Derek Jeter (.406, 2000).
Highest Career BA
September/October, Yankees History
Cano's September 2006 (.377 BA, 28 RBI in 29 games), holds up okay when we compare him to some of those performances, but it's the sum total that stands up best.
Unfortunately for Cano, his statistical successes at season's end have not carried over into the part of the season where it counts most. In six postseason series, his batting average is just .217, tied for fifth worst among all Yankees that have had at least 100 postseason at-bats.
That's one area where he has a long ways to go to catch up to Ruth.
Mark Simon is a researcher for Baseball Tonight
---
Cano burst out of the gate this season, with a .400 batting average in April, joining Paul O'Neill in 1994 and 1996, Clete Boyer in 1962 and Willie Randolph in 1976 as the only Yankees since 1961 to hit .400 in the month. He continued to swing a hot bat the next two months as well, hitting .336 in May and .333 in June.
But since the calendar turned to July, Cano has cooled off. He followed up a .276 average in July with a similar mark in August, and has seen his season line fall dramatically from the .353/.402/.581 slash line he put up from April to the end of June.
Let's take a look at a few areas where Cano has struggled since July 1:
Robinson Cano With 2 Strikes
From April to June, Cano was one of the toughest outs in the league. In two-strike counts, he ranked first in slugging, and third in both batting average and OPS. But over the last two months, he has become rather ordinary, regressing to league-average numbers with two strikes against him. And his plate discipline has really eroded, swinging at nearly 50 percent of pitches thrown outside the zone and whiffing on over 20 percent of all pitches when facing two strikes.
In the first three months of the season, Cano devoured both fastballs and curveballs. His .357 average against the heater ranked seventh in the AL ,while his .560 mark when an at-bat ended against the hook was the second highest in the league.
However, it's been a different story the last two months: Fastballs gave him a lot of trouble in July (.232 BA), while curves were his kryptonite in August (.158 BA).
Cano was mashing right-handed pitchers through June, leading all major league hitters with a .383 batting average entering July 1. But over the last two months, he's really struggled to find his hitting stroke against righties.
Not only has his batting average fallen over 100 points, but his strikeout rate has nearly doubled. Going back to our curve/slider reference, Cano had 11 hits against two-strike breaking balls from righties from April-July (hitting .393 when the at-bat ended in one). In August, he had none.
In fact, he was an automatic out against opposite-handed hurlers in the White Sox series last weekend, going 0-for-10 with a strikeout.
Robinson Cano Vs. RHP
The Yankees enter the final month of the season locked in a battle with the Tampa Bay Rays for not only the AL East title, but also for the best record in baseball and home-field advantage throughout the playoffs.
With Derek Jeter (.239 BA in August) coming off his worst hitting month since April 2004 and Alex Rodriguez (eligible to come off the DL on Sunday) on pace to post the lowest OPS of his career, the Yankees now more than ever need Cano to regain his early-season form and lead the team down the stretch and into the playoffs.
Katie Sharp is a researcher for ESPN's baseball game telecasts