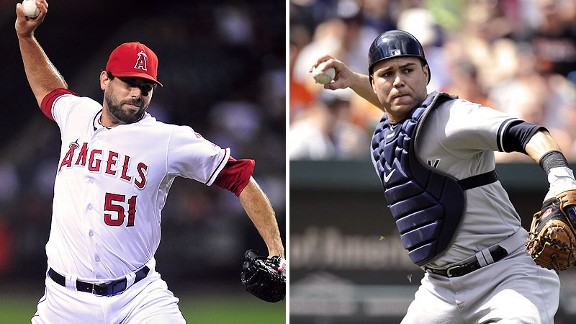 U.S. Presswire
Jordan Walden and Russell Martin were among those who changed teams during a busy week.
Throughout the offseason, we'll feature regular in-depth reviews of MLB moves. This week's piece looks at the under-the radar acquisitions of Jordan Walden and Russell Martin.
Braves trade for Jordan Walden
What is the stat to watch for from the newest righthanded power arm in the Atlanta Braves bullpen, Jordan Walden, this coming season?
Other Braves News
Much like last year, it's not necessarily his fastball velocity (which clocked at an average of 96 miles-per-hour), but his offspeed pitch effectiveness.
Walden has had significant issues with his changeup and slider the last two seasons.
Hitters swung at only 41 percent of them and chased less than a third of the ones thrown out of the strike zone, rates that in both case are below the major-league average.
And when hitters took a Walden offspeed pitch, he got a called strike only 15 percent of the time. That ranks among the lowest rates in baseball.
The Braves may be hoping that some of Craig Kimbrel's offspeed-pitch success rubs off on Walden.
Walden and Kimbrel have similar miss rates with their secondary pitches (Walden's is actually better- 58 percent to Kimbrel's 53 percent).
Craig Kimbrel vs Jordan Walden
Secondary Pitches (Last 2 Seasons)
But the differences that favor Kimbrel can be seen in the chart on the right.
With multiple effective pitches, Kimbrel in nearly automatic in two-strike situations, holding hitters to a .136 on-base percentage over the last two seasons.
Walden is not close to that level yet.
His two-strike opponents' OBP is .255 in that same span.
Russell Martin signs with Pirates
One of the statistical motivations for the Pirates in signing Russell Martin was the value of his catcher defense.
Last season, Pirates catchers combined to throw out only 8.3 percent of baserunners attempting to steal, a rate that ranked second-worst over the previous 25 seasons, trailing only the 2007 San Diego Padres (7.8 percent).
An inability to throw out base-stealers hurt the Pirates during their late-season tailspin.
A New Era in Pirates Spending
They allowed 57 stolen bases during their 12-29 finish, including seven in a three-game sweep (with each game decided by two runs) by the San Diego Padres, immediately after their 19-inning win over the St. Louis Cardinals.
When Martin signed with the Yankees in the 2010-11 offseason, he joined a team whose catchers threw out only 12 percent of potential basestealers.
In his two seasons with the Yankees, he helped them improve that mark, throwing out 24 percent of would-be basestealers, a figure just above the major-league average of 22 percent.
Until last season, Martin rated very well defensively, posting a positive runs saved total in four of his first six seasons. Studies from Baseball Prospectus also showed him to be one of the most effective pitch-framers in the majors.
In 2012 he finished with -6 Defensive Runs Saved, mostly due to the ERA of the Yankee pitching staff being considerably higher when he caught than when he didn't. His caught-stealing rate rate of 20 percent matched the worst of his career and his nine passed balls were a career high.
That still marks an improvement for the Pirates, whose catchers have combined to cost the team 18 runs over the previous two seasons, second-worst in the majors.