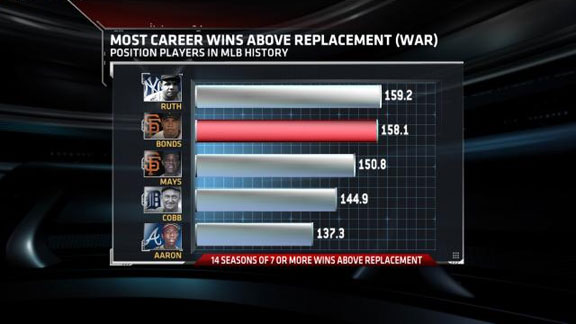 The 2013 Baseball Hall of Fame is sure to inspire debate and controversy, regardless of who goes in -- if anybody goes in at all.
Here are eight former players whose vote totals everyone will be watching for on Wednesday, in alphabetical order.
It's easy to put these two players together, as both spent their entire careers as teammates with the Houston Astros. They could be the first pair who played only for the same franchise to be elected to the Hall of Fame by the BBWAA in the same year since Whitey Ford and Mickey Mantle in 1974.
Bagwell finished his career with 449 home runs, the sixth-highest total of a player who played his entire career with one franchise. Four of the five in front of him (Mike Schmidt, Ernie Banks, Mel Ott, Stan Musial) are in the Hall of Fame, and the fifth, Chipper Jones, isn't eligible until 2018.
Biggio also presents a strong case. He's one of two players in MLB history to finish his career with 3,000 hits, 250 home runs and 400 stolen bases, joining Rickey Henderson.
Barry Bonds Average Season
From 1986-2004
The numbers are there for Bonds. He's the all-time leader in home runs and walks, a seven-time MVP, 14-time All-Star and eight-time Gold Glove winner. Not to mention the single-season home run leader, with 73 in 2001. His seven MVP awards are more than twice as many as any other player (nobody else has more than three).
But it's not Bonds' numbers that are in question. It's the legitimacy of those numbers that has the public and voters doubting his candidacy.
From his age 35 season (2000) on, Bonds hit 317 home runs, 72 more than any other player in MLB history. From the age of 34 to 39, he averaged 8.5 at-bats per home run, improved from 19.8 from age 22-27 and 12.9 from age 28-33.
Roger Clemens
Career Ranks in Modern Era
Clemens is in the same boat as Bonds. He won seven Cy Youngs, two more than anyone else. He ranks third all-time in strikeouts and ninth in wins.
But the connection to performance-enhancing drugs could keep him out. Despite the fact that his 133.1 career WAR is nearly 34 percent more than Greg Maddux's, arguably his closest contemporary.
His 1998 chase of Roger Maris' record will never be forgotten, but the voters have spoken in his six previous years in the ballot, as his vote percentage debuted at 23 percent in 2007 and fell to 19 last year.
McGwire does have Cooperstown-type credentials, though. He has four 50-home run seasons, tied for the most in MLB history, and his .588 slugging percentage ranks eighth all-time.
Jack Morris
Morris is on the ballot for a 14th year but was named on a personal-best 67 percent of ballots last year.
Nobody had more wins in the 1980s than Morris' 162, but he also allowed the most hits and home runs of any pitcher in the decade.
If Morris were to get in, he'd have the highest ERA of any pitcher enshrined in Cooperstown (3.90).
Debuting on the ballot is Piazza, the all-time leader in home runs among players who played at least half of their career games at catcher.
Piazza finished his career with a .308 batting average and 427 home runs. Every Hall of Fame-eligible player that finished his career with at least a .300 BA and 400 HRs is in the Hall of Fame -- except Piazza.
Curt Schilling vs Jack Morris
MLB Postseason Careers
Schilling has the best strikeout-to-walk ratio in baseball's modern era (since 1900). Schilling also had three 300-strikeout seasons, more than anybody not named Randy Johnson or Nolan Ryan.
Only Mariano Rivera has a better postseason ERA (0.70), among pitchers with at least 75 innings pitched, than Schilling's 2.23.